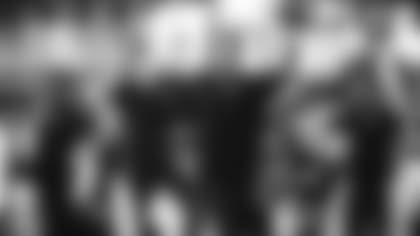 Robert Saleh did it his way when he filled out his lineup cards for the Jets' Monday night meeting with Atlanta at MetLife Stadium. He chose to go with no first-team offense or defense to speak of — by one count, 17 of the Jets' 22 starters, including QB Joe Flacco, who would have replaced rehabbing starter Zach Wilson — did not play.
Meanwhile, like last week's win at Philadelphia, the Jets coach started out with players higher up the depth chart food chain, twos and threes, and finished with the backups to the backups, threes and fours.
And once again, the Jets overcame a flat first half to with an energized second half to execute another come-from-behind victory, this one by 24-16 over the Falcons.
"The ultimate decision came down to the fact that we're scrimmaging with the New York Giants on Thursday," Saleh said of his call to sit his starters. "I do want to treat this week [ahead] as a dress rehearsal, and I felt it would be a heavy load for them to play in this game. We'll practice Thursday, have a dress rehearsal and then call it a preseason."
But before the Green & White put a wrap on summer, they need to bottle some of their second-half magic, manufactured on Monday night again by fourth-string QB Chris Streveler and also WR-turned-TE Lawrence Cager and DL Bradlee Anae.
The game, which got rainier as the night went on, started out like a quilt left out in the downpour. The Falcons, led by QBs Marcus Mariota and Desmond Ridder, built a 306-97 yardage edge in opening a 16-0 lead late in the half. Mariota victimized Jets CB starter Bryce Hall for a couple of plays, a 52-yard completion to TE Kyle Pitts and a 13-yard post to WR Olamide Zacchaeus.
"Yeah, it was sloppy on both sides, to be honest with you," Saleh said of the first half. "A lot of flags were thrown, it was wet and rainy, and some guys were getting a little grabby. It's something we've definitely got to fix."
As for Hall, the HC wasn't as worried. "It's just vision, it's such a simple fix," he said. "Anyway, Bryce will be fine. He's been having a really good camp. This one stings a little bit, but I don't want this one to define what he's done so far."
The comeback actually started with 23 seconds left in the half, when White deftly used all three of his timeouts to move the ball in four plays from the Jets 37 to the Falcons 26, from where Greg Zuerlein drove through a 44-yard field goal to end the shutout bid.
Next came Streveler, who kept up his hot streak by posting his third and fourth consecutive touchdown drives after notching his first two in the fourth quarter at Philly to give the Jets their first lead of the night, 17-16, with 14:49 to play.
Then, as the journeyman who helped Winnipeg win a Grey Cup only three years earlier said, "That scoop-and-score was awesome."
The fumble score was turned in by Anae, executing one of the NFL's rare plays to open the Jets' lead to 24-16. Atlanta third QB Feleipe Franks was looking to scramble away from Anae but didn't make it, with Anae tripping Franks, Franks losing the handle, Anae scooping the ball up and taking it 30 yards.
It was the Jets' first preseason fumble-return TD since Rontez Miles, also at MetLife, also against Atlanta, in 2015. And Anae is believed to be only the second Jets DL in any game to execute a strip, recovery and TD return all by himself. The only other one: DT Darrell Davis, who stripped Warren Moon in the Oilers end zone and recovered it for the score at Houston in 1990.
"It's a deep room," Saleh said of the DL room that Anae is trying to join for the regular season. "He's another guy that shows up every day, works his absolute tail off, goes 100 miles per hour every play. He took a shot on us, leaving his last stop and coming here. I think he was with Dallas. He took a shot, wanted to be here and he's kicking butt and doing a nice job. Those second-half defensive touchdowns, especially from a big guy, are pretty cool."
They're so cool that Saleh was well on the field running toward the goal line to celebrate with his defense when an official gave him a shove to move him back toward the Jets sideline where he knew he belonged.
"He was nice enough not to flag me," Saleh said, "but I've got to get out of the way. I've got to be better."
The Jets can't get much better than this in the preseason: They now have seven games in summer franchise history in which they've come from behind by 14-points-plus deficits for victories and the last two of those games have come in the last two weeks. If Saleh can get better, it would be in getting some of that second-half grit and energy transferred to his first-half participants. He's definitely working on it.
See the best images from the preseason victory over Atlanta on Monday Night Football.