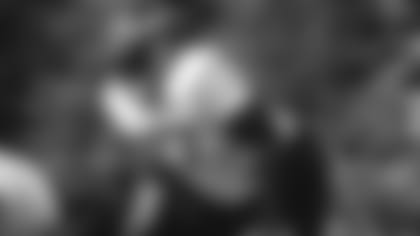 While Mekhi Becton was struggling to breathe after leaving 15 snaps into the game against New England on Nov. 9, his teammates, the coaching staff and the entire Jets Nation were collectively holding their breath.
Becton, the massive 6-7, 355-pound rookie offensive tackle, said on Wednesday that his chest pain was the residue of a cold. Nothing more. Still, he was concerned.
"It was a chest cold, I was congested, it was not a huge problem," the No. 11 overall pick in the 2020 NFL draft said. "I was nervous. I didn't know what was going on. Once we figured it out I was good. I'm good now."
And that's good news for the Jets (0-9) as they prepare for their cross-country sojourn to the West Coast to face the Los Angeles Chargers (2-7) at SoFi Stadium on Sunday afternoon.
As Becton, shaking his head, walked slowly to the locker room during the Patriots game, Jets Head Coach Adam Gase said his focus was on events on the field. After the team's open date, Gase said on Tuesday that Becton "looks like he's good to go for Sunday against the Chargers.
"[Last Tuesday], they went through a whole bunch of stuff and double- and triple-checked everything, and everything seems to be OK," Gase said. "For whatever reason, he was struggling in the game, and I don't have a great explanation for it. That's what it was, and I'm just glad he's alright and that we're able to get him back out there."
Becton dealt with an injury to his left shoulder earlier in the season, causing him to miss two games and snaps in two other games. In the Thursday night matchup against the visiting Broncos, Becton was on the field for only 17 plays.
After he was forced from the game against the Patriots, Becton said he went through a series of treatments and tests in the locker room.
"I did some things with a humidifier to try to clear up my chest, I did a whole lot of things to try and loosen up my chest," Becton said. "It was a tough thing. That's it."
Becton has stood out, besides his obvious height and size, among the team's rookie class, which is now beginning to elbow its way into the conversation. The left tackle, protection the blindside for QBs Sam Darnold and Joe Flacco, has been a quick study. What's more, his strong play, displays of strength and pancake blocks have drawn notice and raves all over social media -- not to mention among his teammates and coaches.
"The game has definitely slowed down a bit for me," he said. "But it's been the same game I've played my whole life."
His impact on the field has been a boon to the ground game. Before the Patriots game, running behind Becton, Jets' running backs had a 5.59 yards/carry mark (seventh in the league). When he's not been in the game the number drops to 4.8 yards/carry (20th in the NFL).
The Chargers' defensive line -- with Joey Bosa potentially back from injury, along with Melvin Ingram, et. al. -- will present another challenge to the Jets' offensive line, which has been dealing with injuries that have rarely allowed the team to have its five best players on the field.
"I thought this last game was probably one of our better games we played," Gase said, referring to the offensive line against the Patriots. "It would be nice to get five guys to play together for consecutive games. It seems something always happens and we lose one of those guys. Last time we started the game with Bec then Chuma [Edoga] in there."
Becton added: "It's a big challenge, they're really good players [Bosa and Ingram]. It's another challenge, another step and another week. It's a big challenge, that's how I look at it."