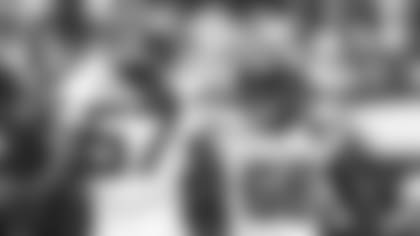 Jets captain C.J. Mosley and Quincy Williams have spent the last three seasons together developing into one of the league's best linebacker tandems. And after last offseason spent training together, Williams is off to the best start in his career.
"This offseason I met with a couple of people, bettering myself, and taking constructive criticism and I mainly did a lot of work with C.J. Mosley," Williams said. "I really talked to him about how he becomes an All-Pro. How does he start fast in the games. This offseason, I worked out a lot with him a lot and did a lot of DB drills, I know my coverage was where I was weak at, so focused on that."
Williams was drafted in the third round (No. 98) by Jacksonville in 2019 and claimed off waivers by the Jets before the 2021 season. Since arriving in New York, Williams has developed into a "game wrecker" according to head coach Robert Saleh.
"I'm so proud of him," Saleh said. "You talk about the players that get thrown away and they try to find their way. He stuck to it, kept his head down, kept working and he's found his way and we're very fortunate that we have him."
This season Williams (T-No. 10 with 48) and Mosley (T-No. 8 with 50) are both in the top 10 in the league in tackles and Williams has had at least 7 tackles in each of the Jets first five games – last season, Williams had two. In addition, Williams has tied season-highs for sacks (2) and QB hits (4).
"The approach that he took this offseason and pretty much since he has got here, he has just been getting better," Mosley said. "Just learning the defense, understanding how the offense is trying to attack us and understanding his job. Not only that, now he is at the point where he is understanding the other 10 positions, which can make your job a lot easier."
In pass coverage, a place Williams said he has struggled in 2022, he has allowed the ninth lowest passer rating among the 38 linebackers with 100 or more coverage snaps. And both Williams (4) and Mosley (3) have at least three passes defensed, tied for first and third respectively at their position.
"It's year three in the scheme, trusting my teammates and my coaches, so when they call the play," Williams said. "I'm just doing my job. Then like I said, working out with C.J. during the week so we see the same thing, we talk the same language, and we are on the same page."
In the Jets 31-21 win against the Broncos in Week 5, Williams played arguably his best game as a pro with 9 tackles, 2.0 sacks, 1 tackle for loss, 3 QB hits and a forced fumble that CB Bryce Hall returned for a game-sealing touchdown. With the Jets ahead, 24-21, late in the fourth quarter, Williams blitzed off the left edge, chased down Denver QB Russell Wilson and punched the ball from his left hand.
"I couldn't be prouder of him and his hard work," Mosley said. "He is one of the fastest linebackers in the league and I always try to ask him, do you watch your cheetah videos in the morning or before games? Do you ever see a cheetah just run as soon as it sees its prey? Nah, he is calculating every single step, he is trying to see which way he is going, and as soon as he sees that spot, he is hunting this season."
And for as much as Mosley has helped Williams on the field, the 27-year-old has returned the favor to the veteran off.
"On the field, I would say our personalities are probably the exact same," Mosley said. "But off the field, he's a little bit more of an open book than I am. We like some of the same things, but I feel like just the way we gelled over the past few years, I think he has helped me kind of open up a lot on the field and off the field."
Take a look through some of the best photos from Sunday's 31-21 win against the Denver Broncos in Week 5.