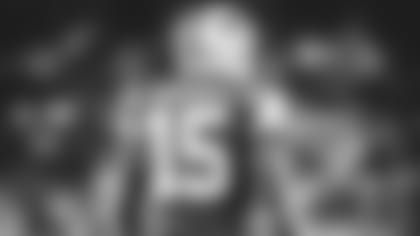 The Pro Football Hall of Fame released this year's list of 173 Modern-Era nominees recently, and a number of Jets, some who wore the green and white for a number of years and many who played less than a season, made the list.
Among the nine players listed in their first years of eligibility was WR Brandon Marshall, who had a franchise-shaking season of pass-catching in 2015.
The list of Modern-Era nominees will be reduced to 25 semifinalists in November. Fifteen of those semifinalists will be joined by three Seniors finalists, including New York Titans WR Art Powell, and one coach/contributor finalist for presentation to the Hall's 50-member selection committee during its pre-Super Bowl annual meeting to choose the Class of 2024.
These are the initial Pro Football Hall of Fame Modern-Era nominees who put in some time with the Green & White:
Michael Vick is the only one of the 10 QB nominees to have played for the Jets. He played in 10 games with three starts in 2014, throwing three TD passes and turning on the jets with some of his trademark mobility, rushing 26 times at 5.9 yards/carry.
Thomas Jones, a pro's pro for a dozen seasons, was a rock as the Jets' tailback from 2007-09, rushing for 3,833 yards at 4.1 yards/carry and setting franchise single-season records with 15 total touchdowns in '08 and 14 rushing TDs in '09. Sure-blocking FB Tony Richardson helped Jones' career by teaming with him in the Jets backfield in '08-09 and staying with the Jets in '10 before ending his impactful 16-year career.
Others with Jets Ties — Michael Bates (2003), Chris Johnson (2014), Lorenzo Neal (1997),
Marshall made stops with six NFL teams in his illustrious career, and his two seasons with the Jets were noteworthy. In '15 he had one of the best WR seasons in Green & White annals, setting franchise records with 109 receptions and 1,502 yards, tying for the TDs lead with 14, and making his sixth Pro Bowl.
Others with Jets Ties — Derrick Mason, 2011.
The two on this list with Jets ties are solid choices. Center Nick Mangold was a late-first-round pick of the Jets in 2006 and enjoyed an 11-year career, all with the Jets. He made 164 starts and was named to seven Pro Bowls and to the All-Pro first teams after the 2009 and '10 seasons. Guard Dave Szott spent his first 12 pro seasons with Kansas City, then started 19 games in his last two seasons, with the Jets in 2002-03. After his playing career, Szott served as assistant OL coach and team chaplain and since 2008 has been the Jets' director of player development.
John Abraham was the second of the "Four Aces" the Jets drew in the 2000 draft, and in his six seasons with the team became one of the most feared pass-rushers in the NFL in that span and in franchise history. He finished his Jets career with 53.5 sacks, third-most among the Jets, and his 2001 season was perhaps his finest — 13 sacks, six forced fumbles, four holding penalties by opponents, the first of his three Pro Bowl invites and All-Pro recognition.
After two Round 1 tradedowns, James Farrior became the first pick of the Bill Parcells era of Jets football, No. 8 overall. He had his best seasons with the Steelers, but before he departed the New York football scene, he had five increasingly productive Jets seasons that included 76 games, 43 starts, and a solid final season in green and white in 2001 — a career-high 145 tackles, two interceptions, nine pass defenses and three forced fumbles.
Others with Jets Ties — Larry Izzo (2009).
Antonio Cromartie famously teamed with Darrelle Revis for three of his four seasons in his first Jets hitch, from 2010-12. He started 47 of his 63 Jets starts and 10 of his 13 interceptions playing the right corner to Revis' left side. Then after "Cro" left for a season and Revis for two, both were brought back to the Green & White for encore performances in 2015.
Players with Jets Ties — KR/WR Josh Cribbs (2013), P Matt Turk (2002).