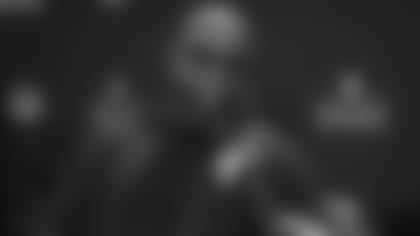 Ahead of CB Darrelle Revis' induction into the Pro Football Hall of Fame Saturday in Canton, OH,, four-time MVP QB Aaron Rodgers offered praise of the lockdown defensive back and reflected on a 2010 matchup between the Jets and the Packers.
"He's just a super talented one-on-one guy who seemed to play his best games against big-name receivers," Rodgers said. "A ton of respect for him because you definitely had to be aware of what was going on and where he was at. He didn't have any weaknesses. … Very well deserving to be in the Hall of Fame."
Revis played 11 seasons, including 8 seasons over two different stints with the Jets and 1 each with the Buccaneers, Patriots and Chiefs.
In 2010, Revis and the Jets held Rodgers' Packers, who would go on to win Super Bowl 45, to just 9 points in a shutout loss. Rodgers threw for just 170 yards, no touchdowns and completed 15-of-34 passes. Revis had three tackles.
That season, Revis earned First Team All-Pro and Pro Bowl honors and registered 10 pass defenses, 32 tackles and 2 fumble recoveries.
"They had him and Antonio (Cromartie), that was a rough day for the passing game," Rodgers said. "I remember that. He was definitely one of those guys that could lock down a side and so much of their scheme was, you know Darrelle is going to be there and he's got his guy and they'll figure out what they would do with the rest of the guys."
A seven-time Pro Bowler, four-time All-Pro and Super Bowl champion with the Patriots, Revis was a technician and shutdown corner who could defend every route in the tree. He finished his career with 29 interceptions – 25 with the Jets – and 139 pass defenses.
Revis went largely untested in both his career matchups against Rodgers. While with the Patriots in 2014, Revis had 1 pass defense and 2 tackles in a 26-21 loss to Rodgers' Packers.
"It wasn't like you could get him on top and back-shoulder him," Rodgers said. "Or have specific routes where he struggled a little bit more. He was excellent against everything. Fast enough to race you down up top, smart enough to be there for back-shoulder stuff, savvy enough to jump on routes when he had the instinct to do it."
Revis and formerJets DL Joe Klecko will have their induction ceremonies Saturday afternoon. On Thursday night, the Green & White will kick off their preseason slate against the Cleveland Browns in the 2023 Hall of Fame Game at Tom Benson Stadium. 
"It's going to be fun to be able to see all that, to see those two go in and add to the tradition," HC Robert Saleh said. "And like, I'll tell our guys, we got a really cool group and there's a lot of guys who can do something special in their career that's in this group, like that. Who's to say, why not a few of us in this group, in this locker room? Why can't there be a few more?"