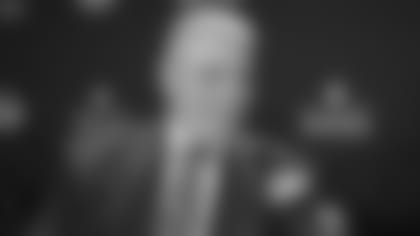 People of the faith know about the patience of Job. People of the Green & White know about the patience of Joe. Centuries after Job's fortitude was rewarded, Joe Klecko is about to finally receive his due: enshrinement in the Pro Football Hall of Fame on Saturday.
A year ago, with another Hall of Fame vote ahead in February, Klecko said his wait for recognition — 35 years after his last game as a Jet in 1987, 29 years after he first became Hall-eligible — was "really kind of easy for me. I've been in the construction business all my life. I had times where I had the job and I walked in the door to sign the contract, and I hear that something went wrong, it's going the other way.
"So I've learned not to get too excited about anything unless the check's in the bank, know what I mean?"
So do all the Jets fans who waited as long and perhaps not as patiently for Klecko's induction.
Then it happened in February in Phoenix: The construction project was all but completed. The Klecko check cleared. Joe, as a Senior candidate, became a Hall of Fame finalist for the first time. Then he was elected to the Canton, OH, shrine as a member of the Class of 2023.
"When it didn't happen, I always said next year. I figured if it was to be and it was God's will, it would happen," he said backstage at the NFL Honors broadcast Feb. 9. "It's unfathomable, hard to put in perspective. ... It's awesome."
It only gets more awesome this week. Klecko, legendary Jets cornerback Darrelle Revis and the rest of the Hall class are guests of honor at Thursday night's Hall of Fame Game — between the Jets and the Browns — then at Friday's Gold Jacket Dinner, and finally at the Saturday ceremony back at Tom Benson Hall of Fame Stadium. And Klecko will do all that along with his wife and children in attendance and green-clad fanatics in No. 73 jerseys cheering him on.
It was a long time coming but it was well-deserved for Klecko, the multiple rocket launcher on the defensive line of the Jets' iconic New York Sack Exchange. His numbers say so: In 11 Jets seasons he collected 78 sacks, 54 of them coming before 1982, when defensive sacks were made official. An NFL-leading 20.5 of those sacks came in 1981, when the Sack Exchange set a franchise record with 66 total QB takedowns. And he achieved it all with his trademark combination of power, pugnacity, ferocity and relentlessness.
Marty Lyons, Klecko's next-door neighbor at DT who will present his close friend for enshrinement, told the New York Post's Steve Serby that what made Klecko unique was "his desire to win. He wasn't intimidated by anybody. You could put him up against somebody that was 6-8, he didn't care.
"You didn't realize how good Joe was till you watched the film on Monday. You're playing right alongside of him, but you don't realize what he did to make that offensive lineman look so silly. Once Joe got into the heads of the offensive lineman, he could do anything you want. He would just look at me and give me a nod or move his head in one direction, and I knew what he was gonna do."
Right end Klecko tipped his cap to left end Mark Gastineau for that '81 season, when Gastineau's 20 sacks made the duo still the only teammates to reach 20 sacks together in the same season, as well as to Lyons and Abdul Salaam..
"The Sack Exchange was a big deal," Klecko said. "We put fear in people's eyes." And if not fear, the look inside the facemasks of many opposing guards and tackles was one of resignation to a long day ahead, especially against 73.
And Joe brought his fire from three different positions over his Jets career — D-end, D-tackle and nose — earning at least one Pro Bowl berth at each, four total. He is still only one of three players to achieve that position trifecta, along with Bears DL Dan Hampton and multitalented Giant Frank Gifford.
Buffalo guard and fellow Hall of Famer Joe DeLamielleure, a longtime Klecko supporter, recalled at profootballhof.com having to block Joe Greene and Merlin Olsen in the same decade he ran into Klecko twice every regular season.
"Believe me, Joe was equal to those two guys," DeLamielleure said. "If Joe had played one position for 10 years, he'd have been considered one of the top two or three players at that position, whichever one it was."
That's an interesting take from Joe D on why perhaps Joe K had to wait so long for his Hall of Fame moment. Sometimes the more you can do works out great, and other times it slows your relentless path to your destiny.
"Three things happened in 30 years," Lyons said. "Joe went into the Jets Ring of Honor, they retired his number, and the third one is that Joe became a man of faith. And maybe God said, 'Hey, you know what, Joe? You deserve to be in the Hall of Fame because your deserved to be here a long time ago. You used your platform for the benefit of others. And now you found your purpose in life. Now you're gonna be in the Hall of Fame.' "
"It was an awesome wait. It was filled with roadblocks, in my mind," Klecko told newyorkjets.com's Eric Allen. "But what a grateful thing, what a tremendous thing it really is."