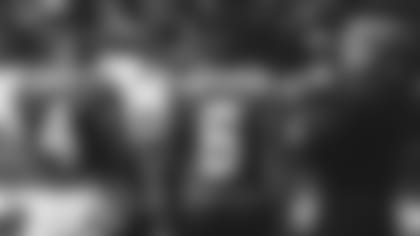 Energy, spark, juice, fire. Even strain, a favorite addition to the lexicon of head coach Robert Saleh and his Jets coaching staff this year. Each word means something slightly different in coachspeak, yet all share the sense of a quality that is much needed on an NFL team, particularly on a defense.
And Jets defensive coordinator Jeff Ulbrich said that while those elements were in evidence on last year's Jets unit, he detects more of those certain somethings this summer.
"I don't know if it was necessarily missing, but it's always good to add that," Ulbrich said this week at training camp as the pads came on for both sides of the ball. "The more guys that you have like that, the better."
Many Jets from last year, from MLB C.J. Mosley on down, have that fire, but Ulbrich pointed out a few more new veteran members of the Green & White who possess that spark, plus one returnee who didn't get to show his stuff due to physical issues (and we're not referring to Carl Lawson, although he fits in this category, too).
LB Kwon Alexander — Alexander just arrived as a veteran free agent, and Saleh talked him up Monday. So did Ulbrich, who said the eighth-year man, who played 13 games in 2019-20 on the 49ers of Saleh and Mike LaFleur, is "awesome":
"Kwon's got this infectious energy about himself. He's got an edge to him. He's got the ability to elevate people around him. To get that type of person in the building is awesome. It'll make us better in practice, it'll make us better in meetings, it'll make us ultimately better on Sundays."
DL Vinny Curry — The coordinator sees some of the same qualities in Curry, starting his 10th NFL season and back with the Jets after missing all last year with his serious illness:
"Talking about Kwon, Vinny's another guy that brings edge, personality, infectious energy, all that stuff. Plus he provides this unbelievable model of what a pro looks like from a day-to-day standpoint. The way he meets, walkthrough — he's just an absolute pro. He does everything at a professional level. He is as detailed as it gets, and he's the most consistent person I've seen from a personality standpoint. He has this juice and energy. ... He absolutely brings something that we need on this defense."
DL Jacob Martin — Ulbrich said Martin, an unrestricted free agent signed in March from the Texans, is also a "pro's pro" who has the "brain" to go along with the "strain":
"Jacob is so calculated in the way he approaches everything he does. There is a specific thing he is working on every single play every single day. It is really cool to see that. Obviously, you watch the tape and you see the strain and you see the effort, the explosion, the speed. We all knew that. What you didn't know is the brain. What you didn't know is the man he is. So I think he's going to really give us the opportunity to open up the playbook a little bit and take advantage of his versatility."
CB D.J. Reed — One of the DC's "strain leaders" is Reed, the UFA from Seattle who has shown a lot of his intangibles already in the early days of camp:
"I don't want to sound redundant, but it's the truth: For the guys that watch practice, this guy is the backside corner running 75 yards to the farside fade. You just don't see that, a guy that strains so consistently like he does. He's absolutely setting the standard as far as what working looks like, what strain looks like, what finish looks like, and that will infect all of those young players out there. ... I think he has the rare ability to affect everybody, even at the corner position, because the strain is so blatant and obvious and every single play."
See the Green & White on the field in full pads during week two at training camp.