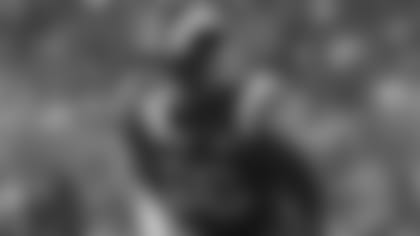 The high priority that teams are placing on edge rushers these days is perhaps demonstrated by the fact that four big names — Dallas' DeMarcus Lawrence, Houston's Jadeveon Clowney, Seattle's Frank Clark and Kansas City's Dee Ford — have been effectively removed from the upcoming unrestricted free agency market by receiving franchise tags from their teams (although reports were the Chiefs would be open to trading Ford). Also, Philadelphia recently re-signed DE Brandon Graham.
That still leaves some interesting possibilities if the Jets have determined that they want to acquire a UFA edge rusher when free agency talks can begin next Monday.
Head coach Adam Gase wasn't tipping his hand as to who he'd like to place in his and coordinator Gregg Williams' shopping cart, but he said in general about what he wants in his pass rushers: "I never look at the sack numbers. I'm always going to look at pass disruption, how many hits on the quarterback does he have, how many pressures does he have? Then you throw in the sacks and now your numbers are going to look the way you want."
Here are some of the top edge-rushing names who could be available as unrestricted free agents, plus a couple more who could become available as street FAs if their teams decided to deal or release them:
Trey Flowers: The former fourth-round pick out of Arkansas, who turns 26 in training camp, is still rising. He's one of New England's best front-seven players, not a straight edge rusher but a movable piece who has produced 21 sacks, 59 QB hits and 164 tackles the past three seasons in the middle of the Pats' D. Yet he wasn't tagged by the Patriots. If the Jets are interested in adding Flowers, among the other suitors they'd have to hold off could be the Lions, whose head coach, Matt Patricia, was Flowers' defensive coordinator from 2015-17.
Dante Fowler: The Rams, Super Bowl runners-up to the Patriots, didn't tag Fowler (6'3", 255) so the 3-4 OLB is on the market. He'll turn 25 this summer and could be bringing it for his third pro team — he was Jacksonville's third overall pick in the 2015 draft, was traded to L.A. last year, and including six playoff games has 21.5 sacks and 33 QBH in 53 games.
Ezekiel Ansah: Ziggy (6'5", 275) has been a Detroiter since the Lions took him fifth overall in 2013. The soon-to-be 30-year-old had 14.5 sacks in 2015, 12 in '17 and has 48 sacks and 110 QBH in 80 games. He was bothered by injuries in '16 and '17 and limited to seven games last year due to a shoulder injury suffered in the season opener against the Jets.
Cameron Wake: At 37, Wake is on the downside of a glorious 10-season, 98-sack career, all as a Dolphin. Gase certainly is woke on Wake, since even playing around 50% of Miami's snaps in 2016-18, the CW still racked up 25.5 sacks and 65 QB hits, both in the NFL's top 10 in that span. Maccagnan might be interested because 12.5 of Wake's sacks over the years have come against the Green & White — his most against any NFL team.
Terrell Suggs: Another old-timer who can still bring it is Suggs, the 16-year Raven who, despite turning 36 during the season played his third consecutive season of at least 15 starts and totaled 26 sacks since 2016. He was limited by injuries in 2012 and '15 but otherwise has been durable and productive. For his career Suggs has played in 229 regular-season games (213 starts) with 132.5 sacks, 33 forced fumbles, 854 tackles and (since 2006) 191 QB hits.
Clay Matthews: Matthews (6'3", 255) has been a big name for Cheeseheads for a long time. In his 10 Packers seasons, the almost-33-year-old OLB has amassed 83.5 sacks, 189 QBH, 15 forced fumbles, five recoveries, six INTs and three return TDs — plus three more scores in the playoffs. But coming off a career-low 3.5 sacks last year, he and the Pack are deciding now if they will remain together for an 11th season.
Possible Street Free Agents
Olivier Vernon: It's been reported the Giants are considering either trading or releasing Vernon, who left Miami for the Giants after the 2015 season, when Gase was just arriving as Dolphins HC. Vernon (6'2", 262) had 29 sacks in four seasons in aqua and coral, then the past three seasons had 22 sacks for Big Blue.
Justin Houston: The Chiefs reportedly are shopping their former star OLB, who had 48.5 sacks, 67 QBH and 234 tackles in his first four seasons, then 30 sacks, 51 hits and 147 tackles as the 6'3", 258-pounder fought injuries the last four seasons.