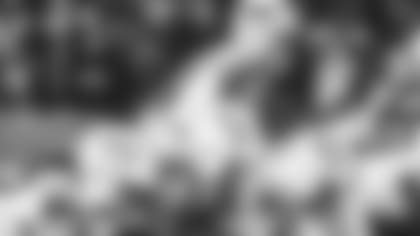 Offensive line metrics used to be hard to come by. There are more methods to measure OLs these days, and one way is by QB hits allowed.
The QBH is not an official stat. There are no record-book entries, either for notching them or preventing them, and standards for awarding them seem to differ from team to team. But hits have informally been kept by the league's pressbox stat crews since 1998 and have found their way into some NFL databases since 2000.
Which leads us to this week's Inside the Numbers message: The Jets' offensive line, before the Texans come visiting at MetLife Stadium tonight, deserves some belated Buffalo kudos.
The Jets blockers, for the first time this season, for the first time in fact since last year's Kansas City win, gave up no sacks of their quarterback.
And the Jets blockers, for the first time since 2013, gave up no sacks and no QB hits in a game.
"We didn't know about the QB hits until later this week, after watching film," guard Spencer Long said. "But that's the goal, man, trying to keep him clean."
It wasn't a great day of offense as the Jets gained just 248 yards and 15 first downs. But the unit rose up in the second half, gaining 180 yards and 11 first downs after intermission. And Sam Darnold, with his clean pocket, completed 67% of his passes on the day (16 of 24). And on the Jets' last three drives, which included their tying and winning touchdowns, he completed 9 of 13 for 105 yards and his scrambling TD throw to Robby Anderson, which calculates to a 119.1 rating.
"It felt like we were clicking as a line the whole day, not only in the pass game but in the run game, and we were getting some stuff going," Long said. "That's how it should be and we felt good about it."
Double-zero games (no sacks, no QB hits) aren't super-rare, but the Jets have compiled only six of them in the last 10 seasons:
| Game | Opponent | Jets Starting QB | Dropbacks | Final Score |
| --- | --- | --- | --- | --- |
| 2009 Game 16 | vs CIN | Mark Sanchez | 16 | Jets 37-0 |
| 2010 Game 4 | @ BUF | Mark Sanchez | 26 | Jets 38-14 |
| 2010 AFC Div Rd | @ NE | Mark Sanchez | 25 | Jets 28-21 |
| 2012 Game 1 | vs BUF | Mark Sanchez | 27 | Jets 48-28 |
| 2013 Game 15 | vs CLE | Geno Smith | 36 | Jets 24-13 |
| 2018 Game 13 | @ BUF | Sam Darnold | 25 | Jets 27-23 |
Need a Yard? Call Eli
Elijah McGuire's fourth-and-goal TD run vs. the Bills produced several numbers nuggets.
McGuire's touchdown was the ninth time the Jets rushed for the game-winning TD in a game's last two minutes or in overtime. The first was Emerson Boozer in a 23-20 Saturday night win over the Chargers in 1968. The most recent was Bilal Powell's relentless run at San Francisco in OT in 2016.
McGuire's "longest yard" score was the 300th 1-yard TD run in franchise history. The Jets' 1-Yard Touchdown Top Five: Curtis Martin and Brad Baxter each had 21, Johnny Hector had 20, Bill Mathis 19 and Boozer 18.
And Elijah is proving to be an effective short-yardage man. He also bulled (with some help from a herd of teammates) for the third-and-1 conversion near midfield after being initially stopped for no gain just before the two-minute warning. On the day, McGuire converted two third-and-1's and the fourth-and-1, and for his career he's been called on six times on third-/fourth-and-1 and converted five.