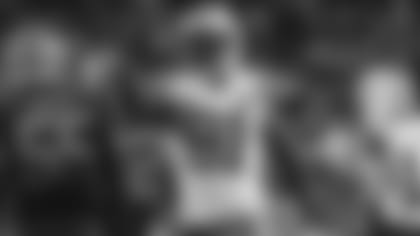 Thursday's game was a bitter green pill to swallow, but let's take a look at three positive developments, one in each phase of the Jets' game:
Offense: Quincy's YAC
Quincy Enunwa continues to pick up where he left off at the end of 2016. He's Sam Darnold's favorite receiver in the early going, leading the offense with 17 receptions and 212 yards.
And oh, that YAC. Darnold found Enunwa on that same slip screen four times at Cleveland and Enunwa went 57 yards on the four catches, with three of the receptions converting third downs, all four gaining first downs, and with 62 yards coming after the catch.
That boosts Enunwa's YAC by my research to 8.6 yards after each catch. This after he had 6.2 YAC averages in both 2015 and '16, so a figure of 6.2 or better this year would give "Q" the top three YAC seasons by a Jets WR with at least 20 catches in the last 15 years. The Jets' unofficial top five YAC season averages from 2004:
| JETS WR | Season | Recs | Yards | YAC | YAC Avg |
| --- | --- | --- | --- | --- | --- |
| Quincy Enunwa | 2016 | 58 | 857 | 362 | 6.24 |
| Quincy Enunwa | 2015 | 22 | 315 | 136 | 6.18 |
| Chansi Stuckey | 2008 | 32 | 359 | 189 | 5.91 |
| Santonio Holmes | 2012 | 20 | 272 | 116 | 5.80 |
| Braylon Edwards | 2009 | 41 | 697 | 223 | 5.44 |
Next up: Find Robby Anderson or Terrelle Pryor or both downfield a little more to crank up the Darnold passing game. As HC Todd Bowles said Friday, "They're doing some things different this year with Robby in trying to take him away, and other guys have to step up."
Defense: Avery's Everywhere
Avery Williamson has said, "That's my game, flying around and making plays out on the field." And even with the defense's second-half dip vs. the Browns, Williamson was all over the patchy FirstEnergy Stadium grass Thursday.
Williamson racked up a game-leading and career-best-tying 14 tackles, notched his first 1.5 sacks as a Jet, and was in on 3.5 tackles for loss/no gain, three of them on Carlos Hyde zero-yard runs, which is a career high for the fifth-year 'backer.
Other sack notes: Jordan Jenkins executed a strip-sack of Baker Mayfield late in the second quarter. That's his second strip in two games and the fourth of his career.
And the Jets are piecing together a pass rush, or at least they did until Mayfield's second half. But they had four sacks to go with their four drops of Miami's Ryan Tannehill. The last time the Jets had four-plus sacks in back-to-back games was 2015, against the Bills, quarterbacked by the same Tyrod Taylor who started for the Browns on TNF, and vs. the Jaguars and Blake Bortles, the Green & White's next opponent Sept. 30. A good omen, perhaps.
Special Teams: Not So Fast, KPL
We spent some time Thursday night ballyhooing Kevin Pierre-Louis' punt block as the Jets' first kick block of any kind since Antonio Allen's two punt blocks in 2013.
But that's not how the official scorers ultimately saw it. KPL definitely deflected Britton Colquitt's late-first-quarter punt, but because the kick then passed the line of scrimmage before it was muffed out of bounds by Terrence Brooks, the play, originally scored as a minus-3-yard punt, is now officially a 3-yard punt and no block.
So the Jets' blocked-kick drought technically lives on at 70 games and counting. But the near-block still will have a positive effect on Brant Boyer's special teams, which had a good game vs. the Browns. We'll go into detail on the specials' performance in next Saturday's Inside the Numbers.