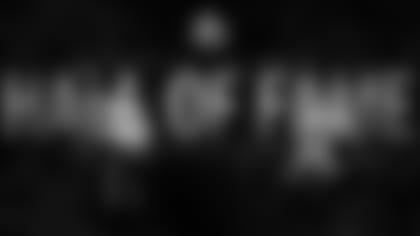 Darrelle Revis and Joe Klecko were unveiled as members of the Pro Football Hall of Fame's Class of '23 on Thursday and were introduced along with the rest of the class to NFL fans before the start of Super Bowl LVII in Phoenix on Sunday. In honor of their dual selection, here is a Jets Hall of Fame Inside the Numbers, or more accurately, By the Numbers, with the accent on the now eight members who played or coached primarily for the Jets in their Hall-worthy careers:
1
Six players who suited up as Jets at one time or another went on to become first-ballot Hall of Famers. But the first five — S Ronnie Lott, QB Brett Favre, LB Jason Taylor, RB LaDainian Tomlinson and S Ed Reed — played no more than two seasons as Jets at the end of their illustrious careers mostly with other teams. Revis on Thursday became the first primary Jet to be selected for the Hall in his first year of eligibility.
2
Only two Jets have been inducted into the Hall as Seniors candidates. T Winston Hill, the franchise leader with eight NFL/AFL all-star game berths, made it posthumously as a member of the expanded 10-Seniors Centennial Class of 2020. And Thursday, Klecko became the second Jet so honored.
3
QB Joe Namath and HC Weeb Ewbank each spent three years as finalists before gaining entrance into the Canton shrine. Ewbank was inducted in 1978 after becoming the first and only coach to win AFL and NFL championships and guiding the Jets to victory in Super Bowl III. Namath was inducted in 1985, eight seasons after concluding his run as the Jets' iconic QB in 1976.
3
Three non-players with Jets ties have made it to the Hall. Ewbank was first, Bill Parcells (head coach, 1997-99) was second in 2013, and Ron Wolf (personnel director, 1990-91) was the third coach/contributor to be honored, in 2015.
4
Four players who spent their careers primarily as Jets have been selected to the Hall of Fame in the past five years. C Kevin Mawae, who blocked for all 45 of Curtis Martin's 100-yard rushing games and all seven of his 1,000-yard seasons as a Jet, got that ball rolling in 2019, followed by Hill in '20, then Revis and Klecko this year.
5
The last time the Jets had the same five offensive linemen who, as a unit, started every game in two consecutive seasons was 2008 and '09. Alan Faneca, the Steelers great who came to the Jets as an unrestricted free agent in 2008 and was named to the Hall of Fame in 2021, was the Jets' left guard for both those seasons and is the only player with Jets experience and guard experience in the Hall. (The other four OL: D'Brickashaw Ferguson, Nick Mangold, Brandon Moore and Damien Woody.)
8
Don Maynard left the Jets after the 1972 season and retired after '73. At the time that he was a HOF finalist for the first time in 1980, he was second in the NFL all-time in receptions (633), first in receiving yardage (11,834) and second in touchdown catches (88). Despite those credentials, Maynard wasn't voted into the Hall until his eighth year as a finalist in 1987.
14.67
Sixteen NFL QBs have averaged 14.50 yards/completion or higher during their careers. The last one to do it was Namath, who, when he retired after his 1977 season with the Rams, had that long-ball 14.67 average. Not a surprise, then, that Namath's 17.38 yards/completion in 1972 was the last time a qualifying QB had a 17.00-yards-plus average in a single season.
20
Defensive individual sacks became official in 1982, but sack totals have been reconstructed going back further. Unofficially, then, 18 players reached 20 sacks in a season 22 times since 1960. But only once in league history did teammates each compile 20 sacks in the same season: Klecko at 20.5 and Mark Gastineau at 20.0 for the 1981 "New York Sack Exchange" Jets.
24
That's the only uniform number worn by more than one Jets Hall of Famer. Ty Law, for his 2005 stay with the Green & White, wore it. After Revis arrived in the 2007 draft and made 24 his own, Law returned as a street free agent in 2008 and wore No. 22 for the final seven games of the season.
68.7
That's the passer rating of all Jets opponents from 2009-11, when Darrelle Revis was at the peak of his Island powers. It's the best three-season opponents passer rating since the 2004-06 Bears posted a 68.4.
13,000
Martin played his first three seasons with the Patriots and his last eight with the Jets. He ran for the lilting total of 10,302 yards as a Jet, and in his first 10 pro seasons had 10 1,000-yard seasons and 13,366 rush yards. LaDainian Tomlinson did his first nine years of damage to run defenses with the Chargers, then finished up in 2010-11 as a Jet. LT's 10-year rushing total from 2001-10 is 13,404 yards. Martin and Tomlinson are the only backs with 13,000-plus yards in a decade since Emmitt Smith in 1992-2001. Call it excellence over time. It's why Martin was inducted into the Pro Football Hall of Fame in 2012 and LT in 2017.