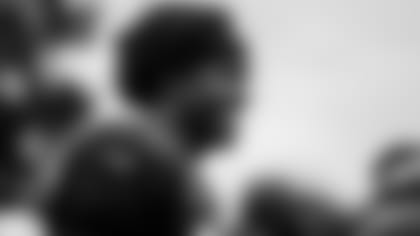 What does Avery Williamson expect to accomplish Friday night's Jets preseason opener against the Atlanta Falcons?
"Five sacks, three TFLs ... " Williamson said with a laugh.
And that was just his production.
"I would say just make sure that we're flying around, our communication is well," the outgoing inside linebacker said. "And when I get the opportunity, make plays. That's what they brought me in for, to make plays. As long as I'm flying around fast and doing my job and getting the calls out well, I feel like that's a success right there."
For the most part, making plays means making tackles for the fifth-year man who spent his first four NFL seasons with the Tennessee Titans and the last two of those playing in the legendary Dick LeBeau's defenses.
Pressbox tackle totals, which are unofficial and always conservative compared to teams' video breakdown totals, pegged him at 72 as a rookie, then 102 and 104. Even last season, when LeBeau reduced Williamson's defensive snaps by 28%, he still turned in a decent total of 92 tackles.
But Williamson is also a steady producer in a lot of other LB specialties. For his career he's recorded 11.5 sacks, 21 QB hits, 33 tackles for loss/no gain, two interceptions, eight PDs, two fumble recoveries and three forced fumbles. No one number is monstrous, but taken altogether they represent a playmaking body of work.
Yet all this talk about Avery's good deeds shouldn't overshadow the play of his fellow linebackers, which he feels is coming along well.
"I feel like as a unit, we're getting better," he said. "And I'm really excited about Friday. We're ready to go out there and do it under the lights. I feel like we're doing better because we're challenging ourselves every day. The group we have is a hard-working group of guys. I'm just trying to get better every day and lead this defense. We're definitely making steps in the right direction."