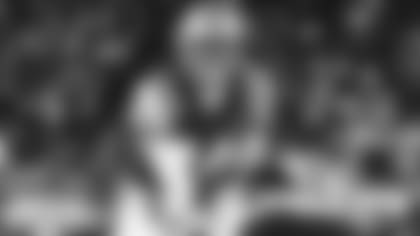 New Jets running back Le'Veon Bell told reporters last week he plans to become Sam Darnold's security blanket in 2019, but the sixth-year veteran believes his new QB-RB relationship will be mutually beneficial.
"I think I can help just leading the offense," Bell said. "I can help dictate coverages a little bit. I think I can make Sam's job a little easier and at the same time, he's going to help me out. He's going to be making great passes on the outside with receivers making plays. He's going to open up that box for me, so we have to counteract each other. I think he has the talent and upside to do that and I feel like I have the same thing and I can help him. I'm excited."
Bell considers himself an offensive weapon and it's easy to forget how effective he was considering his last game in uniform came 430 days ago when the Steelers fell to the Jaguars 45-42 in the 2017 AFC Divisional Round.
As Randy Lange noted, Bell averaged 105.7 rushing and 51.3 receiving yards per game in 2016, becoming the only back to average 100-plus yards on the ground and at least 50 yards through the air. He also became one of seven players in NFL history to average 150 scrimmage yards per game in a season (157.0) and he's just four yards shy of becoming the quickest in pro football history to 8,000 scrimmage yards (5,336 rushing, 2,660 receiving) in addition to 88 total touchdowns.
"I block, I run, I catch, I can be a decoy and be used like that." Bell said. "I'm about just playing football and just having fun, that's what I'm doing. I just like bringing value to the table."
The 6'1", 225-pounder said he's heathier than ever after not playing in 2018 and signed with the Green & White partly because of Darnold. Not only will Bell's play help his quarterback on the field, but the running back offensive weapon plans to mentor the 22-year-old signal caller.
"The only thing I'd really do for Sam right now is really try to be his blanket, take him under my wing and pick his mind a little bit to see what he likes to do or what he's comfortable with," Bell said. "I've been in the league a little longer, so I feel like I can adjust a little better and make his job easier. I'm just going to do everything in my power to make his job as easy as possible."