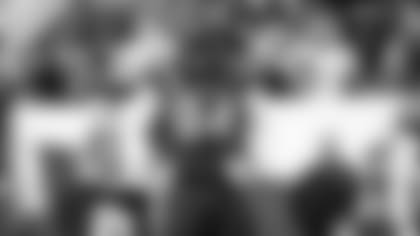 Jets DT Folorunso Fatukasi exemplifies the hard-nosed attitude of his hometown, New York City.
A sixth-round pick out of Connecticut in 2018, Fatukasi was active for one game as a rookie while shadowing DT Steve McLendon's every move. McLendon is now with the Tampa Bay Buccaneers. Three seasons later, Fatukasi has emerged as one of the NFL's best run stuffers at his position. He started in all 15 games he played in this season and was voted a captain by his teammates, just like McLendon. Both players also won the Dennis Byrd Most Inspirational Award -- Fatukasi in 2021 and McLendon from 2017-19.
"Being a captain this year, funny enough, I just had this conversation on the way back [from Buffalo]," Fatukasi said. "It's such an honorable feeling man because you have men in the locker room who look at you and they chose you to exemplify and bring out the message of what this team is and means. When men look at you that way, it's honorable. It was definitely a huge blessing and I felt honored. I felt like I was in a position to relay the messages the guys wanted to relay and to show the standard that we wanted to show as a team, together. I could talk about that all day. I'm thankful that these guys allowed me, chose me and saw me in that light to do that."
Fatukasi, who is from Far Rockaway, in Queens, and went to Beach Channel High School, which is about 50 miles from the team facility, had career-highs this season with 45 tackles and 6 QB hits. His 558 defensive snaps are another career mark and he finished tied for third in the NFL among defensive tackles in run stop win rate at 43%, according to ESPN.
"This system is a fun system to play in," he said. "You can get off the ball, shoot your hands. I've had success in this system, so I think it's fun to play in.
"I really believe that being able to get off the rock, punch my hands, you take your basic Football 101 fundamentals of D-line and you can kind of just allow to be more chaotic. That's what I like about it and I feel like it makes it even more fun."
His play didn't go unnoticed among his teammates. Fellow DT Sheldon Rankins, a self-proclaimed "football junkie" was familiar with Fatukasi's play before joining the Jets and believes he took it to another level in 2021.
"He's got the total package," Rankins said. "He can do it all. It's about one, believing you can do it and then two, going out there and saying screw it and understanding the way this game works, the guy across the way from you gets paid, too. Sometimes you have to take some shots. Sometimes it's going to work and sometimes it's not, but at the end of the game, you can't play the game always being safe, always being calculated.
"Sometimes you have to go out there and cut it loose and when he does, you see a player whose sky is the limit for the type of dominant force in this league. I think he's starting to see that. He knows he can do it in the run. He's shown he can, he's confident in that. For him, being able to see himself do it as a rusher as well, he's finally starting to really believe he can do that and turn over that new leaf."
Fatukasi enters an uncertain offseason with uncertainty surrounding his future with the Green & White because his contract expires in March, which would make him a free agent.
"I love it here," he said. "It's obviously where I'm from and there's been a lot of great relationships that I've made here, but as of right now, we don't know what the future may hold. We all understand how free agency works. This is my first time experiencing it myself. This league is unpredictable, you don't know.
"This organization has given me the opportunity to grow as a player, a person and a man. I've been able to take advantage of my opportunities and I've developed some extremely great relationships with the men in this building. Even though we've faced some adversity, I'm proud of the time that I spent here and we'll see what happens in the future."