Ryan Fitzpatrick quietly made his 100th career start Sunday. Before Fitzpatrick threw a season-high 4 TD passes in the Jets' 38-20 dismantling of the Dolphins, the 11-year veteran signal caller received a text from his father.
"I knew it was going to happen at some point this year – I kind of had forgotten which game it was going to be," he said of hitting the century mark. "But my dad texted me earlier in the day, so then I was kind of made aware of it. So that was cool for me."
Fitzpatrick, acquired from the Houston Texans last March, has made 11 starts with his sixth NFL team. A seventh-round pick of the St. Louis Rams in the 2005 NFL Draft, the Harvard product  turned in a mistake-free performance against the Dolphins as the Jets moved to a game over .500.
"That's a neat thing for me when my career's over with - that's why I wanted to keep the ball at the end of the game and put that one in the trophy case," Fitzpatrick said of his 100th start. "Being a seventh-round pick, being a guy that wasn't really recruited and played college football and all that stuff – it's been a pretty cool ride."
Fitzpatrick heated up against the Dolphins, completing 22 of 37 for 277  yards. He led the Jets to touchdowns on four of their five trips inside the 20 and the Green & White were excellent on third down, converting 59% (10 of 17) of the time.
"I just tried to stay away from trying to make too much happen, trying to force balls, just taking what they're giving me," he said during a conference call Monday with reporters. "Even early on we stalled on a few drives, but just making sure the confidence was still high and everybody trusted in the game plan we had in place, not trying to go off and invent different plays and different throws but trusting what we had and what we had worked on throughout the week. I thought we did a good job of that."
Fitzpatrick enters December in unfamiliar territory, but with a familiar face in his ear. Fitzpatrick has never been to the postseason and he'll try to get there in his fourth season working with Chan Gailey.  The Jets OC was the Bills head coach from 2010-'12 as Fitzpatrick passed for more than 10,000 yards and 71 TDs.  A reporter asked Monday if this felt like the right place and right time for Fitzpatrick.
"You think about it a little bit," he said. "The fact that I came to this team, was able to step in to an offense that was full of veteran guys that have played a lot and a system that I've played in for a few years and I'm comfortable in with the Coach in Chan that has a lot of trust and experience with me. So there's a lot of things that come in place for me that I've definitely been able to appreciate this year and just have to try to continue to take advantage of the opportunity."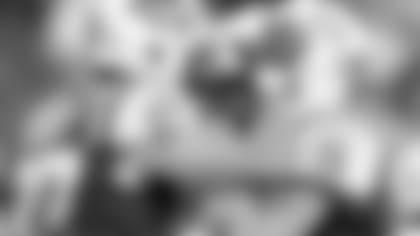 Currently the No. 7 seed in the AFC, the 6-5 Jets are right in the mix of a conference that features seven clubs that are a game above/below .500.
"We know we're still in it," Fitzpatrick said. "We also know there's not a lot of room for error."
The Giants are up next and they own an opportunistic defense, ranking T2 with 22 takeaways. Fitzpatrick, who is completing 58.5% of his passes with 20 TD and 11 INT, is assured of playing meaningful football in December. Five games remain, but Fitz knows the most important start is No. 101.
"As we continue to win, they become more and more significant in terms of putting ourselves in a position to make the playoffs. There's a huge focus on one game at a time, one game at a time," he said. "Not getting ahead of ourselves and making sure we're putting all our energy and our focus into the opponent each week because all these games are obviously extremely important to us. And there are so many teams that are lumped up right now, within a game of each other that we just have to continue to stack wins."