Hitman's Status**: Veteran MLB David Harris, who suffered a bad shoulder bruise against the Giants, was officially listed as questionable on the final Jets-Bengals injury report. Both QB Bryce Petty (shoulder) and CB Darryl Roberts (foot) were declared out for the Green & White. On the Bengals' side of the ledger, TE Tyler Eifert (knee) is out and CB Darqueze Dennard (ankle) is doubtful.
"It's coming along day by day," said Harris, who initially feared that he broke his collarbone. "Hopefully I'll be out there come Sunday, but that's up to Coach Bowles."
Dream Come True: After totaling seven tackles in preseason action in addition to a sack, rookie ILB Darron Lee knows things will be turned up a notch Sunday at MetLife Stadium.
"I've played it over a couple times about how I would envision it," he said. "I'm really excited, I'm almost at a loss for words. It's like a dream come true to be able to experience that on opening day."
Bowles said today that Lee has grown and has become more comfortable with the defensive system. It will be interesting to see how the Jets employ the athletic Ohio State product in Week 1.
"I've been paying attention to their running backs and they're very good," said Lee, while describing the 'Nati offense. "They have Jeremy Hill, who is more of a power back and will come at you, and then you have a scatback in 25 (Gionvanni Bernard). It's a heck of a football team. They play hard."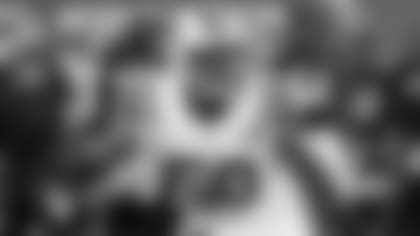 Lee has benefited from covering both Matt Forte and Bilal Powell in practice throughout the summer.
"They're very good backs especially in a receiving aspect. So I always ramp it against those guys to make sure my technique is best as possible against those guys," he said. "Definitely some good learning tidbits and I've learned a lot from 'the Work Horse.' He's been a huge help to me."
Playing on 9/11: Forté, who joined the Jets in March, said this opener will take on extra significance. Before kickoff, family members from Tuesday's Children will hold the American Flag while the Tuesday's Children Chorus will sing the National Anthem. Representatives from NYPD, FDNY, PAPD and Stephen Siller Foundation will also be honorary captains during the coin toss.
"Week 1 there's always a lot of excitement leading to football and the season starting," Forté said. "So there's that factor, but also I'm in New York now and it being 9/11 and the significance of that adds another factor. So it's going to be an exciting day and I look forward to being there and participating in all that and having fun out there."
Catapano Likely to Start: With Jordan Jenkins (calf) doubtful, Mike Catapano will likely start opposite Lorenzo Mauldin. Mauldin is more of the rush 'backer and Catapano would be considered more of the Sam 'backer, but the Jets ask their OLBs to be interchangeable. The 6'4", 270-pound Catapano, a Bayville, NY native who played collegiately at Princeton, cut about 20 pounds in the offseason in order to make the shift from DE to OLB.
"As you stand more, you have to see a lot more coming from the offense," he said. "It's not just putting your hand in the ground and letting it rip. You have to see backfield sets and (OLB coach) Mark Collins has been huge. He sees all that stuff really well and he's helped train my eyes to becoming an outside linebacker."
"I have a lot of confidence in Catapano," said Bowles. "He played hard last year before he got hurt. He's playing hard this year with the things were asking him to do."
Exotic Bengals: A number of Jets defenders talked this week about what the Bengals attempt to do pre-snap offensively.
"They do a lot of exotic shifts to try and get you to think twice about what you're doing," Catapano said. "At the end of the day, we've practiced a lot of it and I think the coaches are very good at preparing us."
"They have a real good scheme," Harris said. "Lots of pullers that are very physical. Big, nasty offensive line, two good backs and everybody knows the weapons they have on the outside. Andy Dalton throws a real good deep ball and he doesn't turn the ball over that much."
Top Snapshots from the Jets-Bengals Series