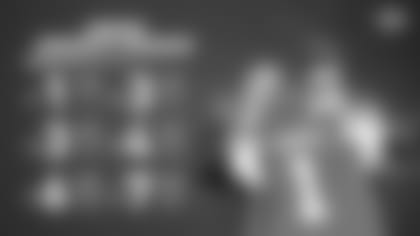 The Picks
The Jets currently have six selections in this year's draft.
Round 1, No. 3 overall
Round 3, No. 68 overall
Round 3, No. 93 overall (via NO)
Round 4, No. 105 overall
Round 6, No. 196 overall (via CHI through OAK)
Round 7, No. 217 overall
Pick Announcements
Nick Mangold — Round 3
Brad Smith — Round 3
West Point Black Knights — Round 4
West Point Cadets — Round 5 (if applicable)
How to Watch
The NFL Draft will be telecast on NFL Network, ESPN, ABC and ESPN Deportes.
Thursday, April 25 (Round 1): 8:00 p.m. EST
Friday, April 26 (Rounds 2-3): 7:00 p.m. EST
Saturday, April 27 (Rounds 4-7): 12:00 p.m. EST
Will the Jets Trade Down?
While the Jets hold the No. 3 overall pick, general manager Mike Maccagnan has said on numerous occasions he's open to trading down.
"We're going to do anything that we feel is in the best interest of the team," Maccagnan told reporters Tuesday. "If we stay at 3 and pick a player, we feel really good about the potential players who will be there. If we have an opportunity to move back and acquire more draft capital, I think we'd be interested in that too."
For more information as the Draft unfolds, be sure to check out newyorkjets.com or the Jets Official App presented by M&T Bank.