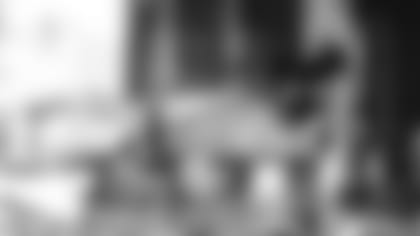 NFL.com — Charles Davis
Round 1, No. 3, DT Quinnen Williams, Alabama
"Yes, the Jets are open for business with this pick, but if they stick, pairing this star from Alabama with DL Leonard Williams will make new defensive coordinator Gregg Williams VERY happy."
MMQB — Albert Breer
Round 1, No. 3, DT Ed Oliver, Houston
"There's been a drumbeat over the last week that the coaches here really like Oliver. Remember, DC Gregg Williams coached Aaron Donald with the Rams and surely he'd love a guy like Oliver. Enough to take him over Quinnen Williams? Maybe. For now…"
NFL.com — Chad Reuter
Round 1, No. 3, Edge Nick Bosa, Ohio State
"Bosa's the base end new defensive coordinator Gregg Williams will want in his front four."
Round 3, No. 68, C McGovern, Penn State
"McGovern can start at center for the Jets in 2019, where he started all season as a sophomore (and once as a junior) for Penn State."
Round 3, No. 93, WR Terry McLaurin, Ohio State
"Sam Darnold is going to love chucking the ball downfield to McLaurin."
Round 4, No. 105, CB Sean Bunting, Central Michigan
Round 6, No. 196, RB Benny Snell, Kentucky
Round 7, No. 217, TE Tommy Sweeney, Boston College
"This is where my mantra to always take the best player is going to be challenged. I love Quinnen Williams, but given New York's courting of Anthony Barr and their need on the edge, Allen is an excellent fit. The positional value of an edge is slightly higher than an interior defensive lineman anyway, so I just talked myself into Allen as the pick after he posted the highest pass-rush grade in the nation last season at 94.3. He has legitimate, linebacker-like coverage ability if the Jets choose to tap into it."
Round 3, No. 68, OT Kaleb McGary, Washington
Round 3, No. 93, C Erik McCoy, Texas A&M
CBS Sports — Ryan Wilson
Round 1, No. 3, DT Quinnen Williams, Alabama
"Williams is the No. 1 player on our board and you can't go wrong taking him first, second or third overall. He dominates the line of scrimmage and while he's not an edge rusher, he's a pocket collapser who is just as good rushing the pass as he is stopping the run; according to Pro Football Focus, Williams ranked No. 1 in pass-rush productivity AND run-stop percentage. Now imagine him lining up next to Leonard Williams."