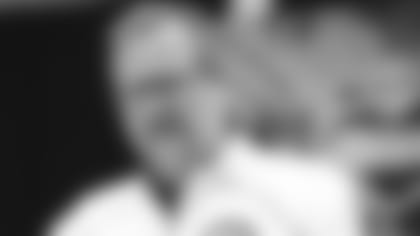 The reports are complete, the grades are in and the board is set. But the work is not done for Jets general manger Mike Maccagnan, who either will be making the final decision for his team's No. 3 overall selection Thursday night or moving out of the pick in order to acquire more draft capital.
"You have a lot of calls going on right now and they will continue tomorrow," Maccagnan told reporters Tuesday. "Most every team out there probably has finalized their stack. I think every team at this point in time is trying to gather information and some teams may put out some misinformation."
Entering his fifth draft as the Green & White's general manager, Maccagnan has made a lot of draft trades but he has never moved down in the opening round. With the sixth overall selection in both 2015 and 2017, Maccagnan landed USC DL Leonard Williams and LSU S Jamal Adams. He stayed at 20 in 2016 and took athletic Ohio State 'backer Darron Lee. And last March, Maccagnan moved out of the sixth spot and moved up three spots in the first round while sending the Colts a trio of second-rounders in the process. With that 3 from Indy, Maccagnan secured the franchise's quarterback of the future and the now in USC product Sam Darnold.
If Maccagnan drafts from the three spot for a second consecutive spring, it's a strong possibility his Round 1 pick will be a defender for a fourth time in five selection meetings. Most pundits have narrowed the decision down to a quartet of players: edges Nick Bosa (Ohio State) and Josh Allen (Kentucky) and the defensive tackle pair of Quinnen Williams (Alabama) and Ed Oliver (Houston). At least one or possibly two will be off the board when the Jets are scheduled to go on the clock.
"We're going to do anything that we feel is in the best interest of the team. If we stay at 3 and pick a player, we feel really good about the potential players who will be there," Maccagnan said. "If we have an opportunity to move back and acquire more draft capital, I think we'd be interested in that too."
Maccagnan, who surprised absolutely no one by declaring the Jets wouldn't be taking a quarterback in the first round, did talk favorably in terms of depth at various positions including defensive line, pass rushers, tight ends, safeties, offensive line and wide receivers. He also provided some interesting intel in terms of value on Day 1 and Day 2.
"There are some really good players at the top of the draft, but I think there is sort of an area where there will be some good value if you're sitting there bottom third of the first round to top quarter or third of the second round," he said. "I think there will be some players in that spot based on how we see them and how we sort of look at some of the mock drafts."
Threes are wild for Maccagnan right now. He has the No. 3 overall selection and a pair of third-rounders after getting an additional selection from the Saints in exchange for Teddy Bridgewater last August. Will a team offer an enticing package to Maccagnan in the next 48 hours, allowing him to still remain in the first round and perhaps picking up an additional second-rounder in the process? If he has a price in mind, we are about to find out soon.
"The nuance is when you make that decision to make a trade and you feel good about a spot, you may actually take a little less in return because you want to be in a certain spot," he said. "Or to move beyond that spot, you may ask for a little bit more in return if you are going to drop out of a certain spot."
Decision on Darron Lee
When asked about Lee and the club picking up the 'backer's fifth-year option, Maccagnan said that determination would be made in "due time." The GM also dismissed the notion that Lee, who was not on the field today at voluntary camp, would not be a good fit in defensive coordinator Gregg Williams' defense. "From our standpoint Darron fits and has some very good skill sets and done some really good things in coverage and there may be some aspects of his game like any player that can be improved upon. But he's an athletic young player and I think he fits what Gregg is going to be doing with the defense."