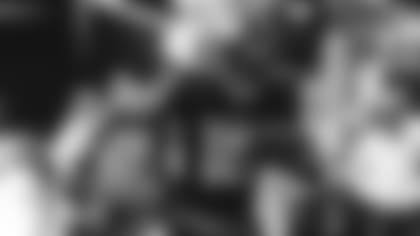 Demaryius Thomas is an elder statesman among NFL wide receivers. He's one of the 10 oldest wideouts plying their trade in the NFL this season — he turns 32 on Christmas Day. But his receptions and receiving yardage totals, while solid for the Jets, the fourth team he's been with in the past three seasons, aren't in the top 50 in the league.
So DT gets asked about others a lot because he brings his considerable perspective to the table. About QB Sam Darnold, he says, "I think he's taking control more and demanding more. I started to see that and it's paying off." And about fellow WR Jamison Crowder, returning on Sunday to Washington, the team that drafted him in 2015, he offers, "He's made big plays and he's even better than what I thought after he catches the ball."
But Thomas hasn't lost his bite. It's sometimes forgotten that all he needs to join the NFL's 10,000-yard club is 354 receiving yards. That's certainly doable in this, his 10th season — even dividing up the WR catches among Robby Anderson and Crowder, he's averaged 4.2 catches and 53 yards/game in his last six games. And he made his biggest contribution yet in Green & White against the Giants on Sunday with season highs of six catches and 84 yards.
If you want to see the Georgia gentleman's eyes light up this week, just ask about his 47-yard fourth-quarter catch-and-run vs. Big Blue.
"It felt great," he said after today's practice at the Atlantic Health Jets Training Center. "It's been a long time since I had a play like that. I was able to help this team out and get in the red area, so that was big for us."
Indeed, it helped in the Jets' comeback effort as Thomas grabbed Darnold's throw off a play-action scramble and motored past rookie CB Deandre Baker (also from Georgia, by the way) down the right sideline for 30 after-catch yards to the Giants 22. Four plays later, having reached the red zone, the Jets opened their lead to 34-27 on Sam Ficken's 35-yard field goal.
Did he high-step on the play? Thomas smiled and said, "That's usually how I run. I pick up my knees a lot when I try to run. But I felt good this past week."
The 47-yarder was not only Thomas' long play as a Jet, it was his longest reception in four seasons, or since he took a longball from Trevor Siemian (now of course a Jet and on IR) 55 yards for a touchdown in the Broncos' 2016 Game 3 win at Cincinnati.
Those Broncos finished 9-7. These Jets can match that only if they win their last seven. But the sage veteran receivers knows the answers for this season and possibly the start to 2020 will depend on building on what they did against the Giants for the rest of the schedule.
"I think so," Thomas said of the positivity of Sunday's win. "We were able to move the ball, put it in the end zone. I don't think we turned the ball over, I don't remember ... no turnovers, that's a main factor. And I think the penalties were down, so that's a start for us."
And the Redskins, struggling along at 1-8, can be another steppingstone on the road back, but only if the Jets focus on the business at hand.
"They've got good guys and they don't give up many big plays," Thomas said of Washington's back end, which features young, big-hitting safety Landon Collins and thirtysomething corner Josh Norman (who turns 32 ten days before Demaryius does). "They get the ball out. They have a couple of veterans I've played against a couple of times. Collins will come down and smack you, so we've got to get a hat on him. And we've just got to get open for Sam."