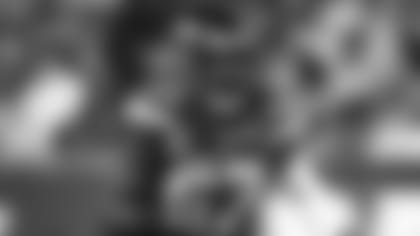 Jets general manager Joe Douglas and head coach Adam Gase were decidedly upbeat as they looked toward the 2020 season with reporters on the opening day of interviews at the NFL Combine in Indianapolis.
And that optimism included their reports on three injured veterans whose contributions will be crucial for the Jets to follow up on last season's 6-2 finish to secure their first over-.500 season since 2015: LB C.J. Mosley, WR Quincy Enunwa and QB Sam Darnold.
Mosley suffered a severe groin injury on opening day against Buffalo, returned to play in one more game, then went on Injured Reserve and underwent surgery.
"C.J.'s doing really well. He's coming along," Gase said Tuesday at Lucas Oil Stadium. "I think we're going to be good to go this spring."
Enunwa played even less than Mosley, playing in 65 plays in the opener vs. the Bills, then going on IR with another neck injury. At the end of the season, Enunwa, who also missed 2017 with a neck injury, described last season's condition as spinal stenosis, said he would not need surgery, and planned to work toward playing in 2020.
So far, said Douglas, so good.
"Quincy's been rehabbing," the GM said. "He's actually working hard, working out in our facility last week. And we are excited to have him back. And so everything that I've gotten from our medical staff is that he's really been attacking his rehab and he's really been working hard through this process. And we're excited to get him with the doctors and see where he's at here."
Douglas didn't give a date on "Q'" checkup but he added in respone to another question: "I know that that doctor's appointment is going to be big for him."
As for Darnold, he had several illnesses and injuries during the season — from the bout with mono that cost him Games 2 to toe, knee and left thumb issues that he battled through without missing time during the second half of the season. The thumb required him to undergo surgery early last month.
Gase said his QB is also moving along.
"Yeah, Sam's heading the right direction. I think we're going to be good to go for this spring," the coach said. "If those guys [Darnold and Mosley] stay on track, keep doing what they're doing, I think we're going to be in good shape."
Just as important to Gase as Darnold's current rehab was how the young signal-caller persevered especially with the thumb, which he first injured in Game 8 at Jacksonville. That told the coach a lot about what to expect from Darnold in 2020 and beyond.
"He was fighting through any kind of little, nagging injuries he had throughout the year," Gase told newyorkjets.com's Eric Allen in a sitdown with Douglas in Indy on Tuesday night . "He had the thumb, which he didn't let become an issue for himself. He found a way to play with it. I felt like he went through a lot of things that were tough on him that a lot of people probably didn't know it was as hard as what it was.
"He found a way to fight through it and really show his teammates what kind of leader he could be, especially going forward. If things get rough, they can count on him to keep doing the right things and find a way to put us in position to win a game."