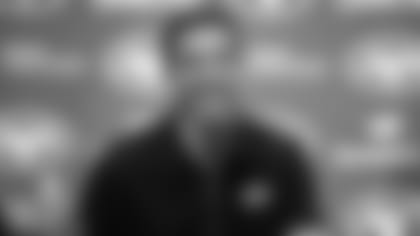 Aaron Rodgers seemed cool, calm and collected as he always does whether he's in or out of uniform, even though he admitted to a certain amount of strangeness he was feeling in speaking to a whole new audience of followers who dress in a different shade of green than he's been used to.
"This is a surreal day for me, after spending 18 years in the same city," Rodgers told media, members of the Jets and other observers shortly after 2 p.m. ET today at the front of the Atlantic Health Jets Training Center auditorium. "There's been a lot of introductions, meeting a lot of people. But there's a lot of excitement."
The surrealness and excitement stemmed from the same developments. The Jets' pursuit of a trade to bring Rodgers, the four-time NFL MVP, over from the Packers, became official when all parties agreed on all the final details of the deal shortly before Rodgers spoke. And that left no doubt about Chairman and CEO Woody Johnson's emotions.
"We are so happy and delighted," Johnson said. "We couldn't be happier to have Aaron as a New York Jet."
Why after those 18 years calling Green Bay his home did Rodgers choose to make his way east? The thoughtful QB came at this question from several directions.
"I'm here because I believe in this team," he said, seated between two of the Jets brass who believed in him just as passionately, general manager Joe Douglas and head coach Robert Saleh. "I believe in Coach Saleh, I believe in the direction of Joe Douglas — he's drafted really well the last couple of years.
"Obviously, Robert has the right sauce, so I'm excited about getting to work with him, Brick [DC Jeff Ulbrich], Marquand [Manuel, DBs coach], who's a former teammate of mine. It's a great staff," he said, adding some special thoughts on being reunited with his Packers offensive coordinator Nathaniel Hackett, now the Jets' OC.
"Hack and I became close friends for three years in Green Bay," he said. "I love him like a brother. I believe in him."
But as Rodgers said, a lot of the drawing power of this job came from his personal motivation, at the age of 39 (and turning 40 in December) to continue to have "joy" from continuing to excel at his chosen profession.
"I'm an old guy," he said, "so I want to be part of a team that can win it all. And I believe this is a place we can get that done."
If that didn't send this day into the surreal zone for Jets followers everywhere, nothing will. Rodgers wasn't offering a Namathian guarantee. He said he wasn't a savior. But he clearly expressed the feeling that he and these Jets can make some noise and do some damage.
"This is an opportunity to be a part of a city that's hungry, a team with an incredible fan base that's hungry to win again. Twelve years without playoffs, not a Super Bowl win since Super Bowl III — it's been a long time. So the opportunity to be a part of something special here, it's different," Rodgers said. "It's similar to Green Bay in that way. In a city like Green Bay and, I assume, for a team like the New York Jets, you can go down in history and there's something special about adding that to your legacy."
This was a day for Rodgers and his new entourage to bask in the moment, although some reporters understandably asked whether this was a "one-and-done" for him, a la Brett Favre in 2008, or if his Jets career would extend past 2023.
"Right now, I'm just going to focus on this season. I'm excited about being here," he said, adding in response to another question, "Again, I'm an older player. It's about a lot more than just the playing part. The body part comes into play, which is the reason I take care of myself. I've always dreamt about being a starter into my 40s. I'm going to be here for the foreseeable future."
So Rodgers didn't say yes about a Jets year two but he didn't say no. And he definitely did offer a positive about when he'll start joining offseason practices. Would it be training camp? The mandatory minicamp in June? OTAs in a few weeks?
"Does tomorrow count?" he said of the early stages of the Jets' offseason strength and conditioning program. "Tomorrow. I'll be there tomorrow."
There will be many more questions to ask the Jets' new, old, already legendary No. 8. But for now, one other thing Aaron Rodgers wanted to accomplish was just to extend his gratitude for the excitement of this new chapter in his unfinished story.
"A big thanks to the Jets organization, and obviously a big thanks to the Green Bay Packers organization for an incredible run," he said. "That chapter is over now, and I'm excited about the new adventure here in New York."
See images of the four-time MVP arriving at the Atlantic Health Jets Training Center.