*The Jets' 16th annual summer finale against the Eagles had the kinds of highs and lows only a fourth preseason game could have. A few Jets battling for roster spots stood out, such as WR Robby Anderson (again), LB Taiwan Jones and DT Deon Simon among others. RB Khiry Robinson finally made his Jets debut and was active.
Then there was the cautionary note at Jets backup QB. Bryce Petty injured his shoulder at the end of his TD pass to Anderson, bringing second-round rookie Christian Hackenberg on for an extended look. Hackenberg looked very much like a rusty rookie in playing three-plus quarters behind center but said the long look was beneficial for him.
The end result was a 14-6 Philadelphia victory, built not on Eagles offense but on two return touchdowns. The Birds finish the preseason at 4-0, the Jets at 1-3. And ready or not, it's on to final cuts by Saturday afternoon and the regular season eight days after that.
The early word on Petty was that he was probable to return to the game but he never did. Head coach Todd Bowles said afterward that his second-year QB has a sore shoulder and will get more tests Friday.
Here are eight Jets observations as the game unfolded in South Philly:
1. Time for KhiryIt was finally time for Robinson to make his Jets debut. The free agent RB, signed by the Jets on the second day of the unrestricted free agency period in March and finally coming back from his broken leg of last November, got the first touch of the game and ran off right guard for 7 yards. Robinson showed a lot of energy and had some big gains but also suffered some TFLs and wound up at the half with 25 yards on 13 carries and 18 yards on three catches.
"Khiry was quick," Bowles said. "It was good to see him get some touches, get banged around a little bit. He was fresh, so we wanted to get a look at him and we got a good look at him."
2. Taiwan OnThe Eagles took their second possession 64 yards to the Jets 16. But Jones rose up on the inside in the red zone, showing a nice read and drop and was in perfect position to tip Chase Daniel's pass into the hands of Juston Burris for the rookie corner's first pro INT.
Then in the second quarter, rather than deflecting to a teammate, Jones came up with the INT himself, off a strong inside rush of Daniel by rookie DE Claud Pelon. Even though the Jets started at the Eagles 34 after the takeaway, the series ended in a punt.
3. Robby on a RollThat pick set up an 85-yard Jets touchdown drive, with the final 44 coming up top when Petty saw Anderson singled up on the right side and went to him all the way for the score. It was Anderson's third TD in three games and made him only the third Jets WR with three TD catches in one preseason in the last quarter of a century. Terance Mathis did it in 1992 and David Clowney duplicated the feat in 2009.
4. Long Night for the RookieBut Petty hurt his shoulder on the above play and went to the locker room, and so Hackenberg came on a little earlier than expected, with two minutes left in the first quarter, to run the Jets offense.
It was a long night for the former Penn Stater. Hackenberg's passing line was 11-for-31 for 54 yards and an interception he threw falling backward under pressure that was taken by S Ed Reynolds 90 yards for a TD. "That's the first thing we said was just take the sack," Hackenberg said. "So that's something that I'll file away.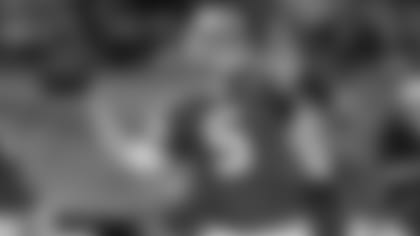 5. Un-Special Punt CoveragePunt coverage, an issue last season, had been pretty good this summer, until rookie speedster Paul Turner broke a tackle up the middle and couldn't be caught for a 71-yard punt-return TD that gave the Birds a 7-6 lead late in the second quarter, although punter Lachlan Edwards took the rap on the directional kick that he said he didn't get out to the numbers.
It was the first PR-TD by a Jets preseason opponent since a former Jet, before he became a Jet, turned the trick in the Meadowlands back in 2000. That was Chad Morton, who took a Tom Tupa punt 77 yards for the Saints.
6. Simon SaysThe Jets run defense was stout most of the night — after the Birds' first drive of the third quarter, they had 10 carries for a single yard and through three quarters it was 17-for-24. Simon at DT was a big part of that green defensive wall, posting three tackles at or behind the line for 4 yards in losses.
"I love that, man," said Simon, last year's seventh-rounder, about making plays in the opponents' backfield. "That's my job — dominate the line of scrimmage."
7. My New Favorite MartinsTwo players named Martin came up with Jets takeaways within a 2:20 span of the third quarter. First S Ronald Martin stripped backup QB McLeod Bethel-Thompson on the keeper and almost recovered it, although the ball squirted loose and S Doug Middleton cradled it for the Jets at their 42. Two defensive plays later, LB Josh Martin pounced on a fumble off a run by Cedric O'Neal at the Eagles 17.
But the Jets punted after the first and Hackenberg threw his falling-down INT-return pick after the second.
8. Lachlan's Long LegDespite Point 5 above and one or two quackers, rookie punter Lachlan Edwards had a busy and pretty strong night. His third punt bounced backward from about the Eagles' 3-inch line to their 3-yard line for a 60-yard net. On the night he had 12 punts and averaged 48.8 yards, netted 37.1, and had six inside-the-20 punts.