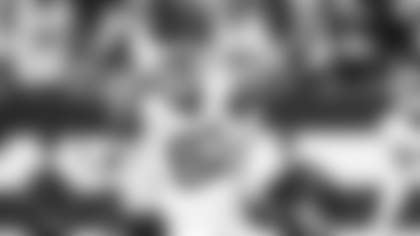 The Jets opened their 2023 NFL regular season with a stunning and thrilling 22-16 overtime victory over the Buffalo Bills on Monday night at MetLife Stadium.
It was costly, however, after veteran quarterback Aaron Rodgers sustained an Achilles injury early in the first quarter and missed the rest of the game.
Backup quarterback Zach Wilson rallied the team in the second half and the defense held Buffalo to only a late-game tying field goal before Xavier Gipson's heart-stopping punt return for the victory in overtime.
The Green & White played on and here are five plays that helped to spark the victory.
No. 1 -- X Makes His Mark
Buffalo won the coin toss before the start of overtime, took the ball after a touchback and immediately went three-and-out. Sam Martin's short 42-yard punt settled into the arms of rookie undrafted free agent Xavier Gipson at the New York 35. Seconds later Gipson capped a 65-yard game-winning return when he fell over the goal line and was dog-piled by his teammates -- a group that included head coach Robert Saleh.
"I'm going to speak for our entire locker room and say we knew he was going to get one today," Saleh said. "We just had a feeling. That kid is electric with the ball in his hands. If I am a team, I am not kicking to him. Let him keep proving it. None of us in the locker room are surprised he took one."
Gipson, out of Stephen F. Austin, is one of two rookie UDFA receivers (Jason Brownlee is the other) who impressed enough in OTAs and training camp to make the 53-man roster (Brownlee was inactive for the game). For Gipson, his NFL debut was the stuff of dreams.
"Man, he [Saleh] said that since the first preseason game, he is like 'Man, you are going to get one, just be patient your time will come' and when coaches believe in me like that and give me opportunities and give me a chance, it builds on my confidence, knowing someone believes in me," Gipson said.
In the euphoric aftermath of his TD dash, Gipson found himself at the bottom of a pile of large human beings.
"I felt like I was going to pass out, they all got on me," he said. "It felt like I was dreaming, I didn't know what to do, I just took off running. It was amazing, for sure."
No. 2 -- Wilson to Wilson for a TD
For as many passes (83) as WR Garrett Wilson caught last season, none of his 4 TD receptions came from the arm of QB Zach Wilson ... until Monday night that is.
With 4:58 left in the fourth quarter and the Jets trailing the Bills by 7 points, the offense took over after Jordan Whitehead's third interception of the game and marched 7 plays to the Buffalo 3-yard line facing second down after Zach Wilson scrambled for 6 yards.
"We had a run play called and you guys know G [Wilson], that dude's pushed me all day to throw the fade, throw the fade, throw the fade," Zach Wilson said. "And I want to, you know? We had the run play called and Coach Hack [offensive coordinator Nathaniel Hackett] goes, 'Hey, let's err on the side of handing this one off.' And I just looked out there and saw G and I'm like, 'I'm throwing this one up. He's going to go up there and make a play.' It wasn't the best throw, the dude was boxing him out, but that dude has unbelievable ball skills and he always finds a way to come down with it, so he's somebody I've just got to keep leaning on to.' "
The ball was thrown a bit wide of Wilson, but he reached across his body with his right hand, tipped it away from Bills CB Tre'Davious White and to himself, collecting the ball as he fell to the MetLife Stadium turf.
"Zach believed in me," Garrett Wilson said. "We had talked about that a little at halftime. He believed in me and I told him that I got him and I got to be a man of my word. That's really all there was to that. I can't say I drilled that, I can't say I practiced that. It's just kind of the will to make a play for your dog. That's all there is to it."
No. 3 -- Breece Lightning Strikes in Return
RB Breece Hall had not taken a snap since he sustained an ACL tear in the Jets' Week 7 victory at Denver last season. He was put on a "pitch count" by the coaching staff, but nearly hit one out of the park early in the second quarter.
After a Buffalo punt pinned the Jets at their 4-yard line trailing, 3-0, the three tight end set on the right side of the offensive line opened a gaping hole after Hall took the handoff from Wilson. Hall raced down the field before running out of gas and being pushed out of bounds by Christian Benford after an 83-yard run that set up Greg Zuerlein's game-tying 26-yard field goal.
"Breece looked good," Saleh said. "I'm going to mess with him a little for getting caught on one. He's still getting his legs back, but he has such great vision and burst, and he is so slippery, deceptively slippery. Excited for him. He had a couple of big runs, a big screen. He is only going to get bigger, better, and stronger."
Hall said he's never doubted his ability.
"Once I got on the field, I was like, 'I'm still that dude. Anytime I touch the ball, I can do whatever I want with it,' " he said. "I always had that mentality, but I was just happy the coaches stuck with me today. They said I was going to have a pitch count before the game, but I told them I don't want a pitch count, but if I have to, I will."
No. 4 -- Micheal Clemons Forces Josh Allen Fumble
Seconds after the Wilson-to-Wilson TD pass got the Jets even at 13-13, second-year DL Micheal Clemons used his size, power and violence to dislodge the ball from Bills QB Josh Allen.
Buffalo put the ball in play at their 25-yard line after the touchback after the Jets' TD. But on first down, Allen juggled the snap from center and tried to save the play by running straight ahead and colliding with tight end Quinton Morris before Clemons slammed into Allen, knocking the ball loose. DL Quinnen Williams recovered and Zuerlein's 30-yard field goal gave the Jets their first lead of the game with 1:51 left in the fourth quarter.
"It just kind of slipped through my hands, we had a motion, I went to grab it," Allen said. "I just was trying to get yards and just got hit on multiple sides and just fumbled the ball."
It was Allen's fourth turnover of the game.
No. 5 -- Jordan Whitehead INT Trifecta
Safety Jordan Whitehead surpassed his season-best in interceptions -- in Monday's game -- when he picked off Allen not once, not twice, but three times. The third one -- with 9:49 left in the fourth quarter -- proved to be pivotal, leading to the tying TD pass from Zach Wilson to Garrett Wilson.
On the play, Whitehead reacted quickly to Allen's pass intended for Gabe Davis in the right flat. He grabbed it and fell out of bounds.
Throughout OTAs and training camp, Saleh stressed the need for the defense, which was No. 4 overall last season, to not only remain stalwart, but to take away the ball and give it to the Green & White's offense. Whitehead, for one, heeded his coach's words.
"Just going off last year, we had a good defense," Whitehead said. "We just had to take this next step. We talked about it at camp, about taking that next step. We've got great leaders on defense, great leaders in the D-line room, C.J. [Mosley] as the captain that runs the show. When you've got guys like that, it's easy for us."
Saleh said he's always had confidence in Whitehead, who joined the Jets last season in free agency after four seasons in Tampa Bay, including a Super Bowl triumph in February 2021.
"He was outstanding, he's been outstanding," Saleh said. "He was four dropped interceptions away from having an All-Pro year last year. He caught 'em all today. He's got great instincts in the box, his range is better this year, his ability to get from red line to red line. We have great confidence in him. He's an outstanding safety and he has been."