The Jets acquired four players on waivers today and released four players from their 53-man roster to make room for them.
The waiver pickups are TE Braedon Bowman from Jacksonville, TE Brian Parker from Kansas City, RB Troymaine Pope from Seattle and CB Darryl Roberts from New England.
The Jets have waived three players — CB Dexter McDougle, S Ronald Martin and RB Dominique Williams — and have waived/injured RB Khiry Robinson with a broken right leg.
Waiver AcquisitionsBowman (6'4", 240) was signed by the Jaguars as an undrafted free agent in May. He turned in a 66-catch, 1,030-yard, 13-TD season in his last year at Scottsdale CC before moving to South Alabama, where he had 29 catches for 381 yards in 2014 and '15 combined. He had three receptions for 32 yards this preseason.
Parker (6'4", 265) was signed by San Diego in 2015 out of the University at Albany as an undrafted free agent. A final cut by the Chargers, he was acquired on waivers by the Chiefs last September, made his pro debut vs. the Lions at Wembley Stadium in London, and finished with one catch for 6 yards. This preseason he had two receptions for 20 yards before the Chiefs waived him Saturday.
Pope (5'7", 205) out of Jacksonville State was signed as an undrafted free agent by the Seahawks last month. He ran for 1,757 yards and 19 TDs in leading the JSU Gamecocks in January to the FCS Championship Game, where they fell to QB Carson Wentz and defending champion North Dakota State. Pope was timed in 4.55 seconds in the 40 at his pro day in March.
Roberts (6'0", 182) was the Patriots' seventh-round selection (No. 247 overall) in the 2015 NFL Draft who spent his rookie season on IR with a wrist injury. At Marshall he was a senior co-captain who finished his Herd career with 42 starts, 38 PDs and five INTs. He had a strong pro day in '15, posting a pair of sub-4.40-second 40s, a 39-inch vertical leap, an 11'1" broad jump and 23 reps in the benchpress.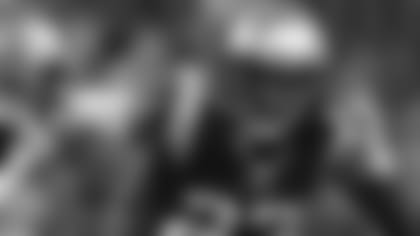 Waived PlayersMcDougle was the Jets' third-round selection (No. 80 overall) in the 2014 draft. He spent his rookie season on injured reserve with a knee injury, then played 14 games last season, seeing most of his action on special teams and getting his most extensive defense play in Game 5 vs. Washington and Game 11 vs. Miami.
Martin was acquired on waivers a year ago from Seattle and spent time on the Jets' practice squad and active roster, playing in eight games and getting all his snaps on special teams.
Williams was signed to a reserve/futures contract by the Jets in January after stretches with the Vikings and Cardinals in 2014 and '15. He saw action in the preseason opener against Jacksonville and had three carries for 17 yards.
Robinson came to the Jets from the Saints as an unrestricted free agent in March. He suffered a broken leg last November and rehabbed the injury through the offseason and preseason. He made his Jets debut as the starting RB in Thursday's preseason finale at Philadelphia, carrying 13 times for 25 yards and adding three receptions for 18 yards in one half of action.
Snapshots of the Jets' 53-Man Roster