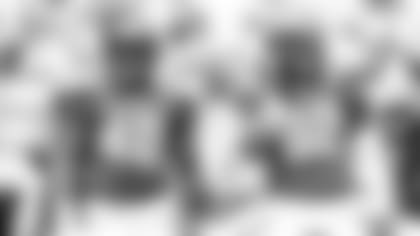 OBJ and Jarvis Landry vs. Jets Secondary
The Browns entered the regular season with a tangible buzz after acquiring Odell Bekcham Jr. to go on top of a promising 2018 season. Reunited with his college friend, Jarvis Landry, the duo combined for 11 receptions for 138 yards in their first game together since 2013.
"He's one of, if not, the best receivers in the game," said Jamal Adams, another LSU product, of Beckham. "Tons of respect for him. Obviously, came from the best university. It's kind of set in stone, we're built a different way and I'm excited to play him for the first time. I'm looking forward to it and I know he is as well."
Last week against the Bills, the Jets' surrendered 254 yards through the air, 123 of which came from WR John Brown. Outside of the speedy Brown, Cole Beasley led Buffalo with 40 yards on five catches.
Jets DL vs. Browns OL
Despite registering just one sack against the Bills, a Jordan Jenkins strip-sack, the Jets' got pressure as they totaled eight quarterback hits, six of which came from the pass rush. The defensive line may be without rookie Quinnen Williams, who sprained his ankle Sunday and has yet to practice, but the rest of the defensive line will to repeat their performance from last time these teams met when the Jets tallied four sacks and 11 QBH.
"I thought we did a pretty good job," Henry Anderson said. "It was kind of an unorthodox pass-rush plan that we had because Josh Allen is a fast dude and presents different challenges for us up front. I think we executed our rush plan well. A couple more sacks would've been nice. Decent, but still room for improvement, for sure."
The Browns' offensive line returns three-fifths of their starting unit, which surrendered five sacks, including a safety, to the Titans in Week 1.
"Tennessee got after the Browns last week pretty well," Anderson said. "Obviously the left tackle got ejected fairly early in that game. His backup came in and got hurt, so they were kind of scrambling a little bit there. We got some good stuff in this week that I think we can execute well on Monday night. Hopefully we get home a few times."
Myles Garrett vs. Jets OL
Browns third-year defensive lineman Myles Garrett is a terror for opposing O-lineman. Garrett, the No. 1 overall pick in 2017, broke out last season and ranked sixth in the NFL with 13.5 sacks. The 6'4", 272-pounder has registered four sacks in two games against the Green & White and brought down Titans QB Marcus Mariota twice in Week 1.
"No. 95 (Garrett) and 54 (Olivier Vernon) are great rushers," LT Kelvin Beachum said. "They do a phenomenal job of getting off the ball. Both of them have the power to be able to knock you off of your balance, but at the same time, they're able to convert their power into being very slippery as well. It's going to be a battle. I'm looking forward to it."
See Best Photos from the Practice Field During Week 2