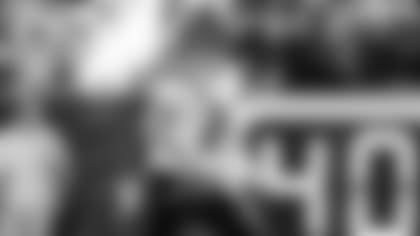 Zach Wilson has a way with postgame vocabulary. After his and the Jets' gutty, gritty 16-9 road win over the Broncos, he had another G-word for the team's reporters and fans for what the Green & White had just gone through.
"We knew it was going to be grimy," the Jets quarterback said.
Another alliterative adjective, "grim," was appropriate for rookie RB Breece Hall, who provided the big offensive highlight of the game — his 62-yard burst 7½ minutes into the action, the second-longest run by a Jets rookie in franchise history — followed soon after by his knee injury that head coach Robert Saleh said after the game was "not good."
"It's tough when you see anyone go down. To see all those guys go down today, it's tough," Wilson said, alluding also to injuries to RT Alijah Vera-Tucker (elbow) and WR Corey Davis (knee), also suffered in the first half. "Those guys are great players. Unfortunately, it's part of the NFL, next-man-up mentality. I said a little something in the huddle, I didn't need to, to the guys that this is your opportunity to earn more money, for more playing time. I think the guys got the message."
Wilson still hasn't forgotten the message since returning from his knee surgery and rehab and now raising his record to 4-0 and the Jets' mark to 5-2. His game was "grimy" for sure — 16 of 26 passing for 121 yards (last week he threw for 110) just the one rushing touchdown (he hasn't had a pass TD since Game 4 at Pittsburgh) and three sacks when he wasn't escaping and barely unloading incomplete passes.
But that leads to one of the best things Wilson continued to succeed at as the Jets continue to move forward into this brave new world, and that's no turnovers. For the third consecutive game, Wilson and the Jets didn't throw an interception and didn't fumble.
"Yeah, they're good," he said of the Broncos' top-covering, top-pressuring defenders. "That's kind of what we expected, though. ... You know it's going to be ugly so for us as an offense, it was one drive at a time. If things don't go well, see how we can adjust. And our defense was doing a great job of putting us in great positions."
The Jets' rushing game, even after Hall's departure, kept the offense in the game with 155 yards at 6.5 yards/carry. As for the pass game, downfield plays were definitely hard to come by, but two in particular helped Wilson and the Jets persevere and prevail.
His screen pass to RB Michael Carter broke open for 37 yards to the Denver 33, which set the stage for Greg Zuerlein's first field goal of the game on the final play of the first half. Then one of the relatively few penalties that went the Jets way was the 19-yard pass interference call on CB K'Waun Williams as he grabbed/hugged Braxton Berrios on a route down the middle. Instead of fourth-and-17 at midfield, the visitors had a new life with first-and-10 at the Broncos 31. Three plays later, Zuerlein made it 3-for-3 with his 40-yarder that opened the lead to 16-9 with 4:35 to play.
The Green & White "coasted" from there, which is to say they survived two more Denver forays into plus territory before they extended all of those delightful and slightly surreal streaks that they've mounted in the last month.
"It's huge," Wilson said of the ugly beauty of this latest road triumph, which assures them that they'll have at least as many away wins as they've had in a whole season since they went 4-4 in 2015. Before that, the 6-2 record in 2010 was the best road mark of the last 13 seasons. "I mean, I think it shows we really don't care where we play. It's all about us focusing on the guys in the room. I'd say the confidence is great. Everybody's in a good headspace."
One might think Wilson was born in the Sixties rather than just before the new millennium began. His view on his team is reminiscent of another G-word ... good? ... great? ... groovy? Maybe grand will do fine as the Jets get ready to do home battle against the Patriots and Bills.
"We won another game so it's huge. It's a lot to keep growing on," Wilson said. But we're excited for the challenge."
See the best images from the road victory in Denver.