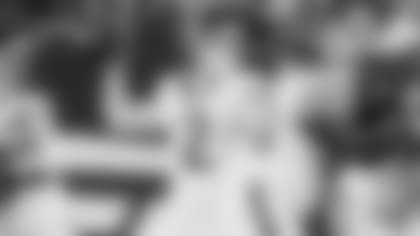 In the Jets' Week 3 loss to the Patriots, the offense struggled to convert on third down, moving the sticks on 2-of-14 opportunities. As they welcome the defending Super Bowl champion Kansas City Chiefs to MetLife Stadium for a "Sunday Night Football" matchup, Jets QB Zach Wilson is focused on getting the offense back on track by getting – and staying – ahead of the chains.
"We have got to find a way to establish drives and get first downs," Wilson said. "We have got to play good on first and second down so that we can play for a third and manageable. And I think we will be just fine if we do that."
The Jets averaged 2.8 yards per play Sunday and managed 171 yards of total offense. Trialing by 13-3 late in the fourth quarter, however, Wilson found his groove and led a 13-play, 87-yard drive that ended in a 1-yard rushing touchdown by FB Nick Bawden.
On the scoring drive, Wilson spread the ball to five receivers, converted two third downs through the air and the offense went up tempo getting in and out of the huddle quickly. Wilson hopes to replicate that success against Kansas City.
"What was it there that got us going?" Wilson said. "I think it was maybe getting a couple of first downs. I hit [Tyler] Conklin on a scramble play and then we were able to get on the ball and go. You see how that slows the defensive pass rush down and keeps them in their base looks and we get a little momentum on our side. I think any of our drives can be like that with a little momentum.
"It is the quarterback's job to be as efficient as I can. Distribute the ball and get completions and get the ball out of my hands quickly. Stepping up in the pocket. Making sure everyone is on the same page. It all starts there. Doing the best, I can."
Sunday night, Wilson will play opposite Mahomes, a two-time MVP, a player he has looked up to and tried to replicate.
Mahomes' Chiefs have gotten off to a 2-1 start and have converted 46.3% of their third downs, No. 8 in the league. In addition, the Kansas City defense has allowed a 31% conversion rate on third down, fifth best.
"It is exciting," Wilson said about playing against Mahomes. "He is an unbelievable talent. He is someone I watch a lot of his film to try and learn from. The way that he plays the game is really special. It is cool that we get to play the Kansas City Chiefs."
In addition, on Tuesday the Jets signed nine-year veteran QB Trevor Siemian to the practice squad. Siemian played for the Broncos from 2015-17 and started against the Chiefs and head coach Andy Reid three times. Siemian will be inactive against Kansas City, but threw for 368 yards, 3 touchdowns and no interceptions against KC in 2016 and has brought a positive dynamic and knowledge to help Wilson.
"He is awesome. A great dude," Wilson said. "It was the one thing that we were hoping to have, a dude that blends in so well and someone that is fun to be around. Whether it is out at practice or joking around in the film room, I think he is a great one."
See photos of the Jets during Thursday's practice in preparation for the Chiefs on Sunday night.