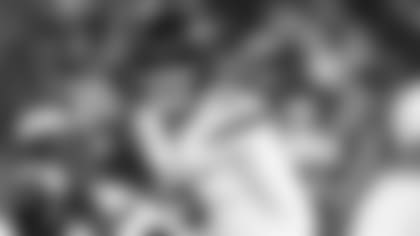 Zach Wilson and the Jets offense continue to seek ways to climb out of their slump. And perhaps an important step in that process took place when the QB and his side of the ball held a players' only meeting Tuesday at 1 Jets Drive.
"We spent a lot of time talking individually with different groups," Wilson said of the skull session that several players suggested would convene soon after Sunday's game at Las Vegas. "It was a good time just to be in the same room together as an offense, trying to figure out ways we can be better, everybody trying to figure out how we can be better. That's where it all starts, just getting everybody's thoughts."
Head coach Robert Saleh was of course not part of this confab, but he has provided positive thoughts whenever asked about Wilson and his season. The QB is most grateful.
"I appreciate that a lot and I think it speaks a lot," he said. "It tells me I'm doing some right things. I've got to keep going, I've got to keep trying to be better, be as efficient as possible and help this offense be in the right positions. But I appreciate that he sees some growth in the things I've really been working on."
The growth has been sporadic, with some ups and some downs still leaving the Jets with league-low offensive rankings in total yards (29th), net passing yards (30th), third-down conversions (32nd), red zone TD opportunities (32nd) and points (30th).
But while his interception-less streaks in terms of passes and games ended on Raiders LB Robert Spillane's game-sealing pick-and-run, he still is ranked third in the league since Game 3 in lowest INT rate, with two INTs on 258 passes, behind Pittsburgh's Kenny Pickett and New Orleans' Derek Carr.
And we know Wilson can run well when presented the opportunity, which he was Sunday night and took off with a Jets-leading 54 yards on four carries, built on a pair of 20-yard second-quarter scrambles.
"Absolutely, I would like not to," he said with a smile about carrying the rock. "If we can make everything clean, that'd be great, but that's not how football works. But anytime I can use it, I should be able to do that."
But Wilson's "superpower," as Saleh might call it, at the moment may be his comeback mentality. The touchdowns and the TD drives haven't flowed for a while, and he didn't engineer the game-winning drive in Vegas, but he remains tied for the NFL lead this season with three fourth-quarter comeback drives.
One of them came in the opening-night win over the Bills. Wilson doesn't get credit for the game-winning punt-return TD by Xavier Gipson, but he did pilot two scoring drives under the difficult circumstances of the Jets losing Aaron Rodgers to his Achilles tear that enabled the Green & White to move from 13-6 down to 16-13 ahead with 1:48 left in regulation to set up OT.
In some ways, the Game 1 win was similar to last year's Game 9 victory over the Bills, also at MetLife when he guided an 86-yard drive to Greg Zuerlein's short field goal for the 20-17 win.
That's not a lot of evidence to return a verdict, but it still gives Wilson a 2-1 starting record against Josh Allen and the Jets' AFC East rivals. However, neither win came in the hostile territory of western New York, where Sunday's late afternoon national game will be staged. Yet as uncertain as the Jets' position may be, they have been victorious over the Bills before and Wilson, the eternal optimist, thinks it can happen again.
"They're obviously extremely talented, offensively, defensively, a good team," he said. "It's always a battle. We know the importance of the game. And so we'll go out there and execute how we need to."
And how can the QB and the Jets do that when yards and conversions and points have been hard to come by lately? Wilson had a simple approach for how to overcome the last three games, or just the last game against the Raiders.
"I don't know if we look at it as what happened in that game. It's what happened on that play. How can we be better on that play?" he said. "Everybody has their 1/11th that they're doing to try and figure out how we can be better. It comes down to we just need to be better more, all the way around the board."