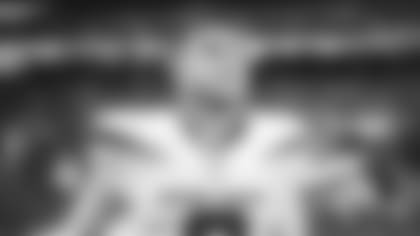 Zach Wilson's offense this season has been a mix of superpowers and power outages. The Jets quarterback was asked after Wednesday's practice if he feels supremely comfortable and confident operating with no margin for error, as the offense did Sunday against the Giants.
"Do I like being down with 24 seconds left?" Wilson rephrased the question with a laugh. "No, I don't."
But in those last 24 seconds of regulation, Wilson hit his two longest and biggest throws of the rainy day to set up Greg Zuerlein's last-second tying field goal, then led the offense to Greg the Leg's overtime game-winning kick. Similarly, he guided the Jets from behind to 10 points in the last half of the fourth quarter, setting the stage for Xavier Gipson's game-winning punt return vs. the Bills on opening night, then directed the offense from behind again to 11 unanswered second-half points in the stunner over the Eagles.
Wilson's three fourth-quarter comeback drives already are the most in a season by a Jets QB since Mark Sanchez had three 4QCs in 2010 and four in '11. Before that, Vinny Testaverde had five comebacks in 2001. Zach is in rare company there.
But he knows that's no way to live for an entire NFL season.
"I'd say resilience, guys fighting regardless who's in there," the signal-caller said of the secret to the three-game win streak the Jets will take into their next home primetime game against the Chargers on Monday night. "We've had some injuries, but we're moving guys around.
"We've shown we can move the ball and do some good things. We're just trying to find a way to be well-balanced and pick up those third downs."
It's not only the Green & White third-down-conversion rate, solidly 32nd in the NFL at 23%. Their first downs, touchdowns, points, red zone rate and passing yards/game are low in the league rankings as well.
Head coach Robert Saleh, like Wilson, has turned this offensive conundrum over and over in his mind to try to find the secret ingredient to sustained offensive success.
"You're always trying to figure stuff out, figure out where we can help our guys be a little better and those situations can be better. ... You feel like it's close," Saleh said at his news conference on Wednesday. "We like the process, we like the way our players go about it, we like [how] we communicate from a coaching staff, we like the way things look on the field, we're excited about certain game plans and all that. It's just a matter of putting our guys in the best positions possible, executing, making the right calls.
"I know I keep saying it's close, but I'm like you and everybody else. Hopefully, that close triggers sooner rather than later."
There appears to be an opportunity for that against the Chargers, who in some ways are a mirror image of the Jets — a top-10 offense led by QB Justin Herbert but a defense that is ranked near or at the bottom in total and passing yards per game and per play and first downs. All that Wilson and his turnstile offensive line need to do to help them succeed here is to keep the QB out of the clutches of the LBs, among them Joey Bosa, now healthy and coming off his best game of the year vs. the Bears, and team-leading sacker Khalil Mack.
"Obviously they have a lot of really good players and a great scheme," Wilson said. "They're a team I'm excited to go play against, a team I like to study and watch, too. It's going to be a great challenge for us. I'm excited for it."
And the Jets' QB is also eager to again work his butt off in this long week of practice before MNF so that he and his offense don't have to leave things to the last 24 seconds of regulation.
"I've got so much trust in my defense," Wilson said. "We've seen what they've done against a lot of good offenses. Would I also like to put up a lot of points and those guys not put up a lot of points? Yeah, I'd like to do it that way, so that's the goal."