The season is about to begin and I am sure all of you Jets fans out there are just as excited as I am! After anxiously waiting for the NFL lockout to finally be over, I cannot wait till our team takes the field! My fellow teammates and I have been working so hard to perfect all of our routines to provide all of you with the best performance possible.
Just like the players, the Flight Crew has a training camp. Ours is all summer long, from the first week in June up until the beginning of the season. Throughout our process, we learn numerous routines, push ourselves to get into the best physical shape, practice long hours inside and outside of rehearsal, and work together as a team to achieve the best final product we possibly can. 
We meet three times a week, having three to four hour practices, and many of us continue to practice long hours outside of rehearsal! It is so important to the Flight Crew to give the fans the best performance. And we all know hard work pays off in the end!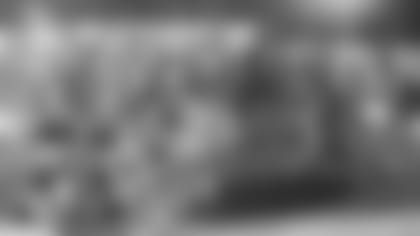 Throughout the course of training camp we have been learning a wide range of routines that will eventually be performed at the home games. We are currently working on perfecting all of our routines for the first upcoming home preseason game against the Bengals! We are all so thrilled to not only watch our team show how hard they have been training, but to also get to perform for all of our fans! This final week leading up to the game against the Bengals will be no different than the previous weeks of training camp. It will be filled with hard work, dedication and teamwork. 
I know the Flight Crew Cheerleaders as well as the Jets football players are all eager to show the fans how hard we have all been working! I think we are all ready for this exciting season to begin, and I cannot wait to see all of the fans supporting our Green & White at New Meadowlands Stadium, Home of the Jets, next Sunday! Hope to see you all there!