The Jets have retained one of their own with the re-signing of unrestricted free agent LB Erin Henderson, who played well all last season and especially down the stretch.
Henderson came to the Green & White last year after sitting out the 2014 season following six seasons, the last three as a starter, with Minnesota.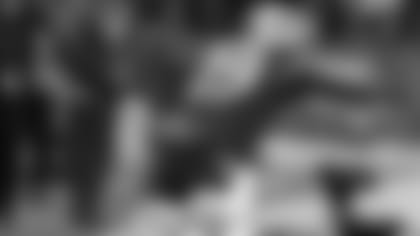 He played in all 16 games in '15 and logged 455 total plays in his return to the NFL, with most coming in the final six games (40 defensive tackles, 5.5 tackles for loss/no gain) as he rotated in at inside LB with Demario Davis. He racked up 14 tackles in the season finale at Buffalo, equaling a career high.
Henderson also contributed on special teams with 12 coverage tackles, second-most on the team behind Trevor Reilly's 16, and forced a fumble on a punt return in the fourth quarter of the loss at Houston.
"The whole thing about playing this game is trust," Henderson said after starting that stretch run with an extended look vs. Miami on Nov. 29. "It's about gaining the trust of your teammates as well as your coaches and the organization, to the point where they believe in you that you'll be able to get the job done. So every chance you get, you want to make the most of it, make sure you're playing to the best of your ability and you're leaving it all out there."
Henderson entered the NFL as an undrafted free agent after the 2008 draft with the Vikings, became a starter in 2011, and totaled 266 tackles, 8.5 sacks, two interceptions, nine pass breakups and five forced fumbles (two recovered) with the Vikes.