It's been a busy Super Bowl week for Jets owner Woody Johnson, and as he said, "Things have been going really, really well."
At Johnson's next stop this Super week, on Tuesday afternoon he brought to 250 New York City high school students a movie about a physical presence he probably wouldn't mind drafting for our team in a little over three months:
Johnson and the Jets brought a private screening of the new release from MGM, Columbia Pictures and Sony Pictures Entertainment to the School of Visual Arts' SVA Theatre on 23rd Street in Manhattan, 10 blocks south of Super Bowl Boulevard and Jets House, located just across from Madison Square Garden.
And before the students got their preview of a film that won't be released for another month, they participated in a raffle. Johnson, with the assistance of tackle Ben Ijalana, drew eight winning tickets.
The grand prize winner — of two tickets to Sunday's Super Bowl XLVIII matchup between the Denver Broncos and Seattle Seahawks at MetLife Stadium — was Adrian Pérez, a ninth-grader from DeWitt Clinton High School's in the Bronx and its Sports & Arts in Schools Foundation.
The other winners divided raffle winnings of Jets House passes, three iPod Shuffles and an iPad Mini. And all students received an official Super Bowl program, a 2013 Jets Yearbook and a RoboCop poster.
The community stop brought together two of Johnson's great passions: the wellbeing of youth, especially in the metropolitan area, and the game of football. And it benefited the School of Visual Arts, a leader in the education of artists, designers and creative professionals in the heart of Manhattan for more than 60 years.
"This is a terrific event for us," said Anthony P. Rhodes, SVA executive vice president and a fan of the Jets since Joe Namath's heyday. "We heard three years ago that the Super Bowl was coming to the New York area. We had Dennis Mayer on our staff, who used to work for the Jets, and we were able to work on doing this charitable event and a wonderful opportunity for these kids to see a movie that's going to do very well."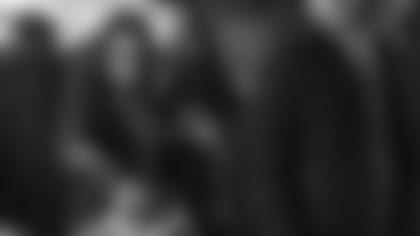 About the School of Visual Arts
The School of Visual Arts has been a leader in the education of artists, designers and creative professionals for more than six decades. With a faculty of distinguished working professionals, a dynamic curriculum, and an emphasis on critical thinking, SVA is a catalyst for innovation and social responsibility. Comprising more than 6,000 students at its Manhattan campus and 35,000 alumni in 100 countries, SVA also represents one of the most influential artistic communities in the world. For more information about SVA's 32 undergraduate and graduate degree programs, visit sva.edu.