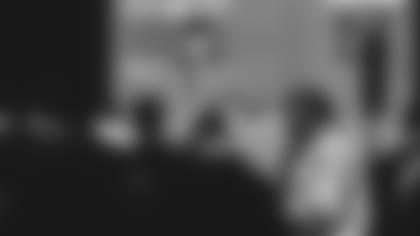 Throughout the offseason, NewYorkJets.com reporters Eric Allen, Ethan Greenberg and Randy Lange will each give their predictions to a series of questions regarding this year's Jets.
Today's question: Will the Jets focus on defense early in the 2022 NFL Draft?
EA: Yes. In Joe Douglas' first two drafts as GM, his first defensive pick was ink Round 3 in 2020 (S Ashtyn Davis) and in Round 5 in 2021 (LB Jamien Sherwood). With the No. 4 and No. 10 selections, it would be more of a surprise if neither pick was a defensive player than if both picks were allocated to the defense. This is a strong edge class and it's possible four pass rushers — Aidan Hutchinson (Michigan), Travon Walker (Georgia), Jermaine Johnson (Florida State) and Kayvon Thibodeaux (Oregon) — will be taken the in the top 10, plus Cincinnati CB Ahmad "Sauce" Garden could be a top-five pick. Notre Dame S Kyle Hamilton has big-time traits and doesn't figure to wait long in Las Vegas before he meets up on the podium with NFL Commissioner Roger Goodell. There are talented offensive linemen and wide receivers at the top of the draft and while the Jets will continue to add around and in front of QB Zach Wilson, it seems unlikely that the WR-OL, OL-WR combos would be the pairing. If the Jets keep the No. 4 pick, it will be interesting to see how many calls Douglas gets from teams interested in getting to No. 10. If Douglas has a cluster of players he is comfortable with, trading down could be an attractive option. As of now, with four picks in the top 38, it's a near certainty that Douglas is about to pick a defensive player the earliest he has in his tenure.
EG: I believe so, particularly with the No. 4 overall selection. Robert Saleh joked last month at the Annual Meeting in Palm Beach, FL, that he and GM Joe Douglas will square off in a bare-knuckle fist fight to decide between defensive line and offensive line early in the draft and right now, it feels like DL is tipping the scale. The Jets OL is in a good place with its starting five and adding a top-tier OT like N.C. State's Ikem Ekwonu or Alabama's Evan Neal would be a luxury pick, whereas adding one of the top edge rushers -- Michigan's Aidan Hutchinson, Georgia's Travon Walker, Oregon's Kayvon Thibodeaux or Florida State's Jermaine Johnson -- is more of a need (even though Douglas' philosophy is best player available). Add Ahmad "Sauce" Gardner in the mix at CB and it becomes increasingly likely a defender will be selected at No. 4 in my opinion. Never say never, though. With the team's current landscape with four picks in the top 38, I wouldn't be surprised if at least three picks ended up being defenders. It would not surprise me if Douglas selected a WR in the top 10, which most mock drafts are projecting, especially after trying to acquire Tyreek Hill, but selecting this draft could shape up to give DC Jeff Ulbrich some new talent.
RL: I've never liked the "draft focus" question. As GM Joe Douglas said at the Combine: "Where I've come from, you take the best player available. I've had a lot of success being around that mindset, that philosophy." But if we then say, "Yes, the Jets will focus on defense early," that implies that Joe D and his team will pay lip service to BAA and will fit in one or more high defensive pick based on their "focus." All that being said, I wouldn't mind seeing the edge go to the defense in the first two days of this draft. Yes, the Jets need an edge rusher to join Carl Lawson, Quinnen Williams and John Franklin-Myers, and cause serious mayhem for opposing QBs. Yes, it would be neat to add a top-ranked corner to the youthful secondary that they began to rebuild a year ago. But the Jets still have holes to fill on both sides of the ball, so whatever we want to call it — best available, need, "focus," "feel" — I'd like to see the Green & White address both offense and defense in the draft. ... Now if they execute that trade we've heard a lot about to acquire that veteran wideout monster for the offense, I could change my mind.