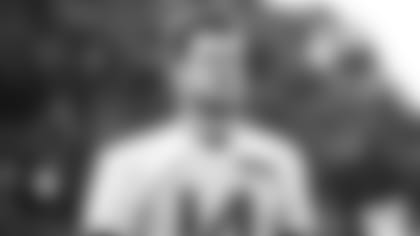 Throughout the offseason, NewYorkJets.com reporters Eric Allen, Ethan Greenberg, Randy Lange and Olivia Landis will each give their predictions to a series of questions regarding this year's Jets.
Today's question: Will Sam Darnold turn things around in Week 2 vs. 49ers?
EA: I expect Sam Darnold to be better in Week 2 as both he and 49ers QB Jimmy Garoppolo work with shuffled decks at the receiver position. The Jets have to find a way to produce on first and second downs, and avoid penalties. Darnold's first drive against the Bills started at the Jets' 9-yard line after a holding penalty on the opening kickoff. The Jets went 1 of 6 on third down in the opening half, starting the game with failed conversions on third-and-7, third-and-9, third-and-10 and third-and-12. They could have a long day if they are against the sticks matched up with a line that features ends Nick Bosa and Arik Armstead; plus rookie DT Javon Kinlaw, who had a strong outing in his first professional action, against the Cardinals. The offense's uneven performance overshadowed the quality play of the offensive line last week against the Bills. If they can hold up against 'Frisco, there will be openings in that banged-up secondary. In The San Francisco Chronicle this week, Eric Branch pointed out that the 49ers were 0-3 without Richard Sherman (who is on IR) the past two years, giving up 32.3 points/game and a 103.5 passer rating. After a summer with no preseason games, Darnold had to shake off the rust last week. He never looked settled in the opening minutes and footwork will be critical Sunday. He'll be better and the Jets will be better, too.
EG: I expect Sam Darnold to have a better game Sunday than he did in Week 1. The 49ers were No. 1 in the NFL in pass defense last season, but their secondary is dealing with a number of injuries. Richard Sherman was placed on injured reserve earlier this week and Ahkello Witherspoon is in the concussion protocol, which means the Jets' receivers could be facing two backups. Darnold, who completed 60% of his passes in Week 1 for 215 yards, 1 TD and 1 INT for a 75.3 rating, wasn't able to find a rhythm at Buffalo. Head Coach Adam Gase said that the team had some early miscues against the Bills that could have allowed Darnold to settle in had they completed passes. Gase added that the 49ers play more zone defense, which could allow Darnold to have a "breather play for him and get him some completions." The Jets offensive line has to handle a tough 49ers front that features Nick Bosa, Arik Armstead and Dee Ford, who combined for 25.5 sacks in 2019. If the line is able to provide Darnold with time, he'll be able to find his receivers against a banged up secondary. San Francisco Head Coach Kyle Shanahan said of Darnold: "If you're not on your stuff, if you let him get comfortable back there, he'll pick you apart as good as any quarterback. He can throw it very well and he sees the field extremely well." Jets fans are hoping Darnold can be comfortable Sunday.
RL: I'll say yes on the Sam rebound. For one thing, if Kyler Murray and Arizona can hang up 404 yards and 24 points of offense in an opening-day win at San Francisco, why not Darnold and the Jets in their home opener vs. the jet-lagged 49ers on Sunday? Which brings us to Darnold at home. Not surprisingly, he's a lot more comfortable at MetLife, where virtually all his key metrics are better than on the road: passer rating (86.7 home against 75.3 away), drive yards/game (327 yards to 241), offensive points/game (21.2 to 14.6) and win-loss record (7-6 at home and on a four-game winning streak from last year to 4-10 on the road). Of course, this will be a MetLife different than any he's experienced so far, what with no fans in the stands, but I'll still take Darnold for the turnaround in the friendly confines.
OL: The hopeful answer is yes. QB Sam Darnold and the Jets had a challenging AFC East matchup last Sunday against the Bills — a team whose defense was ranked No. 3 overall last year and had 80.4% of its players/snaps returning on that side of the ball. It's a similar story for this Sunday's game vs. the 49ers. The 49ers are one of the league's top pass-rushing teams and Darnold and the O-line will have a battle, facing elite DEs like Arik Armstead, who totaled 10 sacks last year; and Nick Bosa, who had 9 and was named the 2019 defensive rookie of the year. Darnold will need to improve his numbers from last Sunday (60% completion percentage), 1 TD and 1 INT. The Jets are banged up on offensive, with RB Le'Veon Bell and WR Denzel Mims on IR. If the offensive line can protect Darnold, however, and provide the young QB time, he should put together a better performance in Week 2.