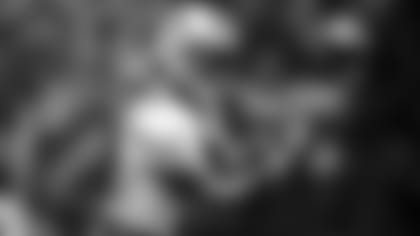 Over the next several days, NewYorkJets.com reporters Eric Allen, Randy Lange and Ethan Greenberg will each give their predictions to a series of questions regarding this year's Jets.
Today's question: Will Robby Anderson reach 1,000 yards?
EA: Through 12 games last season, Anderson had 821 receiving yards. He went to Denver red hot, having just torched the Panthers and the Chiefs for 146 yards and 107 yards respectively in Weeks 12 and 13. But Josh McCown broke his left hand against the Broncos and Anderson was slowed in the season's final quarter, amassing just 120 yards. The Jets offense was stagnant down the stretch, averaging only eight points a contest as the club didn't taste victory after its 38-31 triumph over Kansas City to start December.
The Green & White will enter 2018 with a much better QB situation than the one they had to wrap up the 2017 campaign and the 25-year-old Anderson is an elite talent who is becoming a more complete player. The best from Anderson is ahead of him and the reinsertion of Quincy Enunwa and the addition of Terrelle Pryor could open up more space for the burner. Anderson, who recently pleaded no contest to a misdemeanor reckless driving charge, told reporters he doesn't expect a suspension from the league. I think he gets to 1,000 in Year 3. Even if he misses a pair of games for whatever reason, he would need 72 yards a game to get to that plateau. If he plays all 16, he will fly past quadruple digits.
RL: Yes. But only if he plays all 16 games. No if he doesn't.
EG: I'd lean towards no, but not because of a lack of ability. The Jets have four receivers that have tallied at least 800 yards in a season (Anderson, Jermaine Kearse, Quincy Enunwa, Terrelle Pryor) and I think Anderson showed last year he's a legitimate home run threat. With defenses making sure No. 11 doesn't beat them over the top, I think it opens up more underneath space for him and the rest of the unit. Chad Hansen also had a nice spring and I think the Jets will turn to the ground more in 2018.