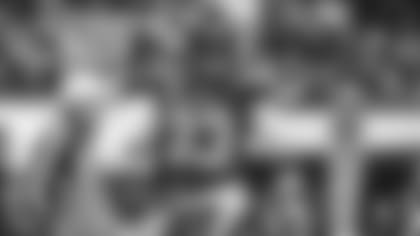 Throughout the season, NewYorkJets.com reporters Eric Allen, Ethan Greenberg, Olivia Landis and Randy Lange will each give their predictions to a series of questions regarding this year's Jets.
Today's question: Will Jamal Adams break the NFL record for sacks by a defensive back?
EA: I wouldn't bet against him. After missing the first two games of his NFL career, Adams was excellent in his return to action as he paced the defense with 8 tackles and 2 TFL in the Jets' 16-10 victory over Pittsburgh last Sunday. All of his 6.5 sacks came during an incredible run from Weeks 9-13 including that absurd 5-sack tear in the team's wins over the Giants and the Redskins. Even when he's not getting to the QB, he's helping set his teammates for plays. Tarell Basham's first career interception came with the Jets sending Adams at hurried rookie Devlin (Duck) Hodges into a forced pass over the middle. The two-time Pro Bowler is a destructive player who leads the NFL's No. 7-ranked defense with 85 tackles, 15 QB hits, 2 FF and 2 TDs. He was genuinely excited when he heard the Bills would play their starters, but QB Josh Allen likely won't be in there long. Don't expect Matt Barkley, a seven-year veteran, to hold onto the ball with No. 33 lurking. Adams is treating this one like a playoff game, so he is going to make plays. Sack history would be nice, but the reigning two-time team MVP has become one of the league's top players and there are many more things in store for him no matter what happens in Western New York.
EG: My heart says yes and my head says no. Jamal Adams vowed to never miss the Pro Bowl after not earning an invitation his rookie year. So far, he's done so. Adams also vowed to break Adrian Wilson's sack record by a defensive back, so it's hard for me not to believe him. I want to believe he'll break it, too. He needs 1.5 sacks to tie and 2 to break. Adams recorded at least 2 sacks twice this season — 2 vs. NYG and 3 vs. WAS. I know he's very capable of doing so, but it comes down to opportunity. Once the Bills backups enter the game, will they turn into more of a running team or continue to have a balanced attack? There's also rain in the forecast for Sunday's Jets season finale and I don't know that will affect the game plan. The other factor is his health. He's been limited in practice this week (ankle). He said he'll be "hunting" in Orchard Park, so get your popcorn ready.
RL: I'd love to say yes, Jamal will grab the record, but I think he'll fall short up in Orchard Park, and it has nothing to do with No. 33's will to get the job done. Yes, QB Josh Allen, as elusive as he can be, can be sacked — his 7.8% career sack rate is middling among all QBs in the last decade — but from the sounds of what Bills Ccoach Sean McDermott has said, Allen won't be in the game long. Matt Barkley, with a much smaller body of work to prognosticate from, has been twice as hard to sack in his career as Allen (even though Adams got a half-sack of Barkley in last year's home loss to the Bills). Then there's the rain, expected during the entire game. Will that result in a more ground-based Buffalo offense? And will DC Gregg Williams' game plan free No. 33 to apply pressure on whichever QB is under center for multiple sack opportunities? Adams made it look easy for a while, but 2.0 sacks are a lot for a top-sacking front seven player to get in a particular game, let alone a DB. I'll be pleasantly surprised, though, if Jamal gets there despite all the obstacles.
OL: I think Jamal Adams' eyes are set on the prize and he won't go home until he's surpassed the record. With 6.5 sacks on the season, he needs 1.5 more to surpass Adrian Wilson's record for most sacks by a DB in a season, which is 8. Almost all of Adams' sacks have come in the latter half of the season, with his first sack of 2019 recorded against the Dolphins in Week 9. After that, he caught fire and went on a roll, recording his next 5.5 the next three games, including three against the Redskins. The third-year safety's injury in Week 13 set him back two games, but I think Adams will again find his fire against the Bills in the Jets' final game of the year. Buffalo's offense ranks No. 24 in sacks allowed per pass attempt, allowing a sack 8.25% of the time. I believe the Pro Bowl-bound safety will light it up for one last time in 2019 and claim the record.