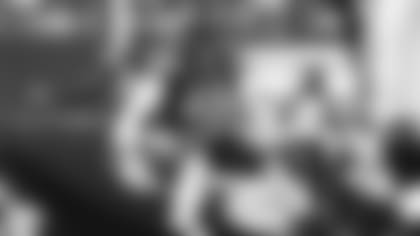 Throughout the offseason, NewYorkJets.com reporters Eric Allen, Ethan Greenberg, Randy Lange and Olivia Landis will each give their predictions to a series of questions regarding this year's Jets.
Today's question: Who has been the most unsung player on the Jets this season?
EA: LB Neville Hewitt. Last spring, we expected the Jets to have depth at inside linebacker. Then C.J. Mosley opted out of the season and in November Avery Williamson was traded to the Steelers. Second-year player Blake Cashman was limited to four games due to injuries, former Ravens 'backer Patrick Onwuasor suited up for just one contest and James Burgess, who finished second on the team in tackles last season, was cut before Week 1. On Sunday against the Rams, Hewitt will make his 14th consecutive start. And he's not just playing — he's playing well. The sixth-year veteran leads the defense and ranks eighth in the NFL with a single-season career-high 110 total tackles. Since 2000, Hewitt is one of only two undrafted free agents to register a 100+ tackle season with the Jets. The rush defense, which will be in bounce-back mode against the Rams, has been solid and Hewitt, who also relays the signals as the team's Mike 'backer is a big reason. Hewitt is a consistent performer with a professional attitude and never lets an opportunity go by the wayside. He also packs a heavy punch and has become much more than a special teams contributor since leaving Marshall University and entering the league in 2015.
EG: LB Neville Hewitt. Entering Sunday's contest against the Rams, Hewitt has played the second-most snaps on the team (931). He also ranks No. 8 in the NFL with a career-high 110 tackles and is one of eight players in the NFL this season with at least 100 tackles and tw2o sacks. He became one of five Jets since 2000 to reach at least 110 tackles in 14 weeks. Hewitt has taken over the Mike LB position the past two seasons for C.J. Mosley and is the defense's signal-caller. He's gone from a quiet, predominant special-teams player in Miami to a vocal leader on the Jets defense and one of the unit's most consistent players. Entering training camp in 2019, Hewitt was projected to back up Mosley and Avery Williamson. In less than two weeks, Hewitt went from backup to starting Will LB and then starting Mike after Williamson hurt his knee in the preseason and Mosley sustained a season-ending groin injury in Week 1. With a lot of moving parts on defense, Hewitt has been a mainstay, lining up next to multiple players including Williamson, Blake Cashman, Frankie Luvu and most recently Harvey Langi. Hewitt always plays with maximum effort and has become a team leader.
RL: I'd like to say Marcus Maye, but Maye's not unsung, just undemonstrative. "I'm just there to keep the guys together, lead by example, let my play do the talking," Maye said after the Seattle game. He's been outstanding at all that. Neville Hewitt's another good choice. But I'll go with Braxton Berrios. Who's the only Jets receiver who's played in all 13 games? Berrios. Who's had the vast majority of kick and punt returns combined for the G&W the past two seasons? Berrios. You need him for zero targets or one play on offense one week? That's cool. For 10 targets or 52 plays the next week? Cool again. Braxton is second on the team behind Jamison Crowder with 29 receptions, he's second behind Crowder with eight third-down conversions, he's a few one-hundredths of a yard behind Crowder (5.07 to 5.10) among the top YAC averages for Jets WRs. He's one of the top unheralded players on this year's Green & White for sure.
OL: The most unsung Jets player this season, although there have been many players that have shown toughness through adversity, is LB Neville Hewitt. At the beginning of the season, LB C.J. Mosley opted out of the 2020 season because of the coronavirus pandemic, designating Hewitt — for the second season in a row — as the quarterback of the defense. Hewitt handled those same duties in 2019 and did it again this season. Through 13 games, Hewitt has totaled 2 sacks and 1 FF and leads the defense with 75 tackles. He's been the glue that had held the unit together. In his sixth professional season, Hewitt's efforts have helped elevate the Jets to one of the top rushing defenses in the league, with the team ranking No. 12 in rushing yards per game and No. 4 in rushing yards per play. I think he deserves high praise for his efforts.