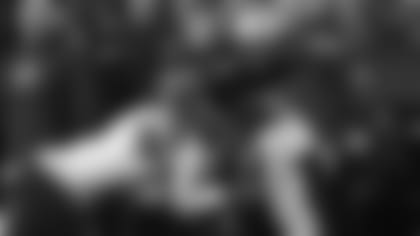 This year's NFL Draft wide receiver class is loaded and has a chance to be historic. According to The Athletic's Dane Brugler, teams will be able to select starting-caliber wideouts in the third and fourth rounds.
However, COVID-19 has thrown a wrench in the evaluation process. Typically, teams would collect medical information on prospects during their top-30 visits to the clubs' respective facilities or at the medical re-checks in Indianapolis. But those pre-draft visits were cancelled and some players could potentially fall because of their medical histories.
For the Jets, Brugler believes Colorado WR Laviska Shenault could be available in the second round (No. 48 overall) and he would be a great value selection.
"If he can mature as a route runner and stay healthy, Shenault is going to end up being a steal in the second round due to the versatile package of skills that he offers, the natural instincts when the ball is in his hands," he said. "I'm a big fan of Laviska Shenault and I think that would be a great fit for the Jets in Round 2."
Brugler added he believes Shenault is a first-round talent, but he ran a 4.58 40-yard dash at the NFL Scouting Combine and underwent core-muscle surgery this offseason, which probably would've prevented him from working out prior to the draft regardless of the pandemic.
The 6'1", 227-pounder was a first-team All-Pac-12 selection in 2018 after leading the FBS with 9.6 receptions per game and ranking fourth in the nation with 112.3 receiving yards per game. He totaled 86 receptions for 1,011 yards and 6 TDs and added 5 rushing touchdowns. This past season, the DeSoto, TX native caught 56 passes for 764 yards and 4 TDs.
"I think he's one of the most talented receivers in this draft," Brugler said. "The Titans last year got really good second-round value in A.J. Brown. This could be the Jets' version of that. He's at his best with the ball in his hands. He can make defenders miss, he accelerates really well, so he throws off pursuit angles in coverage. He has the physicality where he can break tackles, but that's kind of the double-edged sword with him. That physicality as a ballcarrier, that also leads to more punishment on his body, which is one of the reasons he could be available for the Jets in round 2 with his durability questions."
Just like Shenault, South Carolina wideout Bryan Edwards could find himself in a similar situation in Round 3 and the Jets own a pair of Round 3 selections (No. 68 and No. 79). Edwards missed the last game of the 2019 campaign and the Senior Bowl with a minor knee injury and broke his foot training for the combine, which caused him to miss the entire pre-draft process. In four seasons with the Gamecocks, the Conway, SC native totaled 234 receptions, 3,045 yards and 22 TDs.
"In this crowded receiver class, that could be the difference while a guy like [Texas WR] Collin Johnson or some of these receivers could go ahead of him," Brugler said. "That could be great news for a team picking in the third round looking for receiver help. With Edwards, he's 6'3", 215 pounds, a big-bodied receiver and you see that on slants, screens, crossers. He needs to be a little more reliable with catches especially down the field, but the athletic skills, the physicality, that's what really can make him an NFL weapon inside or outside."
Brugler added: "Some teams are going to be a little more risk averse and conservative with guys where they know the testing and then there will be teams with a little more appetite for the risk and take a chance on one of these guys who might fall a little bit and have that discount sticker on them because there's a little more risk involved. But it could be a high-reward type of situation and that could be the case with a guy like Edwards."