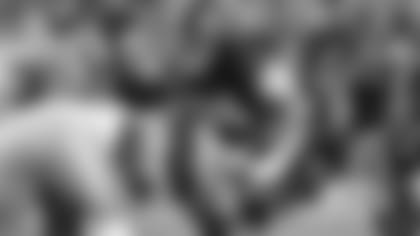 Many draft pundits believe general manager Joe Douglas could select one of the "Big Four" tackles — Louisville's Mekhi Becton, Georgia's Andrew Thomas, Alabama's Jedrick Wills and Iowa's Tristan Wirfs — at No. 11, but it's likely that not all of them will be available when the Jets are on the clock.
If one in particular is still on the board, however, The Athletic's Dane Brugler thinks the Green & White should go with Wills. The 6'4", 312-pounder is Brugler's top-rated tackle and even pegged him to the Jets in his latest mock draft.
"I think he's a great fit, he's a mauler in the run game," he said. "He uses that natural strength, the heavy hands where he can just steamroll whatever is in his way. In pass protection, he has the hip flexibility, the feet to hold his own. He played in 39 games at Alabama over the last three years and gave up one sack. This is a guy with a lot of ability. He's known more as a run blocker, but he has the movement skills where he can hold up in pass protection."
Wills' biggest question mark, according to Brugler, is if he can play on the left side of the offensive line. The Lexington, KY native lined up at right tackle since his days at Lafayette HS. However, it's important to note that Alabama wanted Wills to play on the right side to protect southpaw QB Tua Tagovailoa's blindside. Brugler and many other draft pundits believe Wills, a former basketball player and No. 1 overall recruit in Kentucky, has both the mental and physical makeup to make the jump from right to left at the pro level.
"It'll be interesting to see how some teams weigh that," said Brugler, who added that Wills "is the only one of the 'Big Four' that has that position question, but I think he's the best of the group and I would have no problem projecting him at left tackle and feel strongly he could fill that spot at left tackle just fine."
Thomas has the most experience of the group at left tackle (26 games), followed by Becton (21 games) and Wirfs (4 games). However, Brugler believes a top-15 pick is not too rich for a right tackle, e.g. Lane Johnson (No. 4 overall in 2013), Jack Conklin (No. 8 in 2016) and Mike McGlinchey (No. 9 in 2018).
"A lot of defenses are going to put their best pass rushers on the right side because they're looking for matchups," he said. "You have to have your two tackles be very good pass protectors. It's not like it was 25 years ago where you had a more athletic blocker on the left side and you had your bigger guy, your run blocker on the right side. Things are different in today's NFL. When Von Miller is going up against your right tackle, you can't really make that switch in-game. Your left tackle is going to stay there, your right tackle is going to stay there. You need someone who can hold up.
"With a guy like Jedrick Wills, you feel really comfortable at right tackle, but I'd have no problem moving him to the left side and feeling very confident he could hold that down and get better as time goes on."