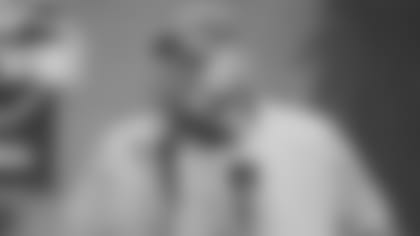 Throughout the offseason, NewYorkJets.com reporters Eric Allen, Ethan Greenberg and Randy Lange will each give their predictions to a series of questions regarding this year's Jets.
Today's question: What do you think about the Jets' Position as free agency approaches?
EA: Of the 324 players invited to the NFL's Scouting Combine next week in Indianapolis, I'll take Oregon edge rusher Kayvon Thibodeaux. ESPN's Todd McShay has said there are concerns that Thibodeaux doesn't play with the "same fire" as some of the other top prospects. NFL Network's Daniel Jeremiah recently labeled Thibodeaux the "true wild card" of the draft. In 32 games at Oregon, Thibodeaux registered 19 sacks and 35.5 TFLs. This past October, in the Ducks' 34-31 win at UCLA, the athletic pass rusher went back to SoCal (he is from South L.A.) and had 2 sacks and set career highs with 9 tackles and 4.5 TFLs. Thibodeaux was recruited by everyone out of Oaks Christian HS where he was named the USA Today High School Defensive Player of the Year and was also the top-ranked player in the ESPN300 before signing with Oregon. In three Pac-12 Championship games, Thibodeaux rose to the occasion while totaling 4.5 sacks, 5.5 TFLs and 21 QB pressures. This draft has both quality and quantity at defensive end and Thibodeaux (6-5, 258) has impressive physical traits in terms of size, length, speed and power. And while he'll get drafted early primarily because of his pass-rush prowess, Thibodeaux is also stout against the run. He'll have to refine his counter moves, but the Oregon standout offers position flexibility and he has the potential to be the best edge in this class. I'm intrigued to hear Thibodeaux speak to the media and then also the reaction to his interviews with various teams. Is he poised to be a top five pick or could he slide as some have suggested? Will the polished California cool kid, who plays chessand has talked previously of becoming a broadcast journalist, make a big statement in American's Heartland?
EG: LSU CB Derek Stingley. Dane Brugler of The Athletic described Stingley as "the ultimate enigma in the 2022 draft class" in his latest top-100 list. He was a consensus All-American as a freshman in 2019 en route to a national championship. He had 6 interceptions and 15 pass defenses in 15 games that season, but has played in only 10 games over the last two years and only three in 2021. He has not recorded an interception in either 2020 or '21 and has 5 total pass defenses. Two of the biggest factors for prospects and evaluators in Indianapolis have nothing to do with the on-field testing. The medicals and interviews, both behind the scenes, are imperative for prospects. In this case, for Stingley, receiving a clean bill of health could be huge for his draft stock as well as the interviews where teams will most likely ask about his sophomore and junior seasons compared to his freshman. There is no doubt Stingley is an extremely talented player, succeeding at an early age in the SEC, but the Combine will be a crucial part in the evaluation process for him after tailing off the last two years. If his 2019 and 2021 seasons were flipped, there's a chance he'd be a lock for a top-three selection in April. Stingley is one of many players with a lot to gain in Indy.
RL: Tariq Woolen is a redshirt senior cornerback from the University of Texas at San Antonio. He shifted from WR to CB late in the 2019 season and had 2 INTs combined the past two seasons. He generated Senior Bowl Week practice buzz but was in for only about 10 defensive snaps with no stat line for the game. He's listed as 133rd in cbssports.com's position rankings, and checks in at 79th on Drafttek's latest big board. So why should we get excited about Woolen? Well, he's got rare length for a corner at 6-3 3/8 and 205 pounds with 34-inch arms. And he's a superb athlete who was clocked at the Senior Bowl at an American-squad-best 22.45 mph. He's an invitee to the NFL Combine and he told The Draft Network he's aiming for a time in the low 4.3 seconds in the 40 if not faster. He could be overestimating his speed, as often happens, and he's still raw at the position. But if he's right about his dash time and he can excel at the other Combine stations and in his interviews, his stock could soar into the early part of day two of the late-April NFL Draft.