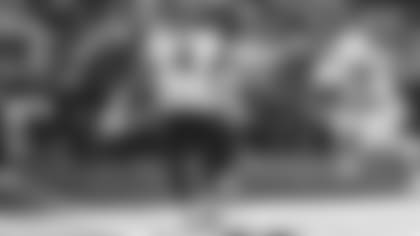 Throughout the offseason, NewYorkJets.com reporters Eric Allen, Ethan Greenberg, Randy Lange, Caroline Hendershot and John Pullano will each give their predictions to a series of questions regarding this year's Jets.
Today's question: What would a win over the Dolphins mean for the Jets?
EA: On Friday, we found out that Joe Flacco will start the season finale. He'll look for his 100th career regular-season win. Despite entering this game on a five-game slide, the Jets have an opportunity to double their win total from a year ago. And after going winless inside the AFC East, the Jets can finish 3-3 inside the division. A victory would give the Jets their first season sweep of a division rival since 2016 plus their first sweep of the 'Fins since 2015. Regardless of win/loss, the defense has had a remarkable turnaround and can move from worst in the NFL in '21 to a top-five finish. The Green & White have not allowed a 300-yard passing game this season and that streak should stay intact against Skylar Thompson. Garrett Wilson can pad on some yards to his record-breaking season and perhaps reach the 1,100-mark. Finally, we'll get one final chance to watch Sauce Gardner, who has a league-high 20 PDs, and D.J. Reed, 12 PDs, line up against Tyreek Hill and Jaylen Waddle.
EG: I think WR Garrett Wilson said it best: "We want to finish strong. It'll be a bad taste regardless, but we don't want to have as bad of a taste. … Send them home, too." There's still a lot for the Jets to play for despite being eliminated from the postseason. A win in Miami would be the team's first in South Florida since 2015, the team's first sweep of the Dolphins since '15 and the first sweep of any division opponent since 2016. Not to mention if the Jets win, they'll eliminate Miami from playoff contention. The Green & White would also double its win total with a victory. The Jets have lost five in a row after a 6-3 start heading into the bye week. Even though Sunday will be the final chapter of the Jets' 2022 season, ending on a high note after showing substantial improvement from last season would be a nice way to ring in the new year.
RL: Don't buy into the narrative. There is no such thing as nothing to play for, even in Week 18 after elimination. And for the Jets, there is more than just trying to take a win into the offseason, which is preferable to a loss as well as a sharp stick in the eye but isn't a lot of incentive. Yet the Jets have more than that. As HC Robert Saleh said, this is a chance "to play spoiler," and there's something to be said for knocking the Dolphins out of the playoffs. It's the chance to secure their first home-and-home sweep of the 'Fins since '15. The Jets have one more opportunity to restart their offensive engine and keep their defensive machine roaring along. They can also win another game on the road and their first game at Miami since 2014 (or '15, but that road game was in London). As Quinnen Williams said, "I love the warm weather. Miami is an amazing place to be." It'll be even more amazing next season if the Jets roll into town on a short Hard Rock winning streak.
CH: While the playoffs are no longer a possibility for the Jets, a win will knock the Dolphins out of playoff contention as well. It would also mark the first time the Jets ever won at Hard Rock Stadium (since it was renamed), the Jets' first sweep of the Dolphins since 2015, and the first time sweep of any AFC East rival since 2016. An 8-9 record and 3-3 record inside the division would be the team's best marks since 2019. Many players have added this week that they are playing for the team and the opportunity to represent each other. Connor McGovern said a performance in a game like this is a best representation of who a player is.
JP: Down 3 starters on the offensive line – LT Duane Brown, RT George Fant and RG Nate Herbig – and a handful of other starters Sunday, a win vs. Miami would set a positive tone heading into the offseason. The game will also provide opportunities for players who have received limited reps this season. DL Sheldon Rankins said it best, the Week 18 contest is a chance for players to establish themselves and get better. Additionally, a victory in South Florida would also give the Green & White a final record of 8-9 – their most wins and highest winning percentage since 2015 when they finished 10-6. And last but not least, the Jets will have an opportunity to play spoiler to Miami's postseason aspirations. It is a role Rankins said the team relishes: "We are not foolish to the idea."