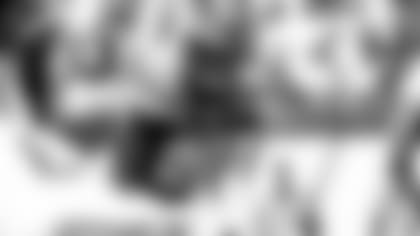 Throughout the offseason, NewYorkJets.com reporters Eric Allen, Ethan Greenberg, Randy Lange and Olivia Landis will each give their predictions to a series of questions regarding this year's Jets.
Today's question: What will the Jets defense look like without Jamal Adams?
I would surmise many people believe the Jets will take an immediate step backward — defensively and overall — after having dealt away one of the top defenders in the NFL in exchange for a package of premium picks and a veteran player. And while this will be an enormous challenge in the short-term to transition minus No. 33, the best units figure out a different plan of attack in order to be successful.
The Jets, who have questions on the outside at cornerback, don't make this significant move if they don't feel confident about the safety landscape in the near-term with Marcus Maye and Ashtyn Davis plus GM Joe Douglas got another starter back in the Jets-Seahawks swap in Bradley McDougald. The rangy Maye has been asked to play 15-20 yards off the line of scrimmage for most of his career, but he has a versatile skill set and his best is yet to come. The Jets love Davis' athleticism and the 6'1", 215-pound McDougald has 10 career INTs, 4 FF and 3 FR in 98 games and 75 starts.
It will be interesting to see who will fill the void Adams leaves as a pass rusher, but the Jets will continue to get after the QB by committee. Adams is a great player, but the Jets have a brilliant conductor in Gregg Williams, they aren't void of talent on the defensive side of the ball and they are getting C.J. Mosley back as well. I think Douglas has created a culture with outstanding character guys on all levels of the defense and someone is going to have to become that sparkplug that Adams was on gameday.
EG: Jamal Adams wore many hats in coordinator Gregg Williams' defense as he led the team in tackles, sacks, QB hits and tied for first in pass defenses and forced fumbles. However, Bradley McDougald, whom the Jets acquired in the trade with Seattle, is also a versatile piece. McDougald appeared in 15 games (14 starts) for the Seahawks last season and totaled 70 tackles, 6 pass defenses, 2 interceptions and 1 forced fumble, and he joins a safeties room that includes Marcus Maye and third-round pick Ashtyn Davis. The 29-year-old McDougald should be able to come in and compete for a starting job right away with 98 games (75 starts) under his belt since he joined the league in 2013. I wouldn't be surprised if the Jets use more three-safety looks in 2020 with McDougald, Maye and Davis. I also think it's worth noting ILB C.J. Mosley's return. While they play different positions, Mosley, who missed 14 games last season, could mask Adams' departure to a certain extent. Mosley, a four-time Pro Bowler, is one of two players since 2014 to register 500 tackles, 8 sacks and 8 INTs (Luke Keuchly).
RL: First and foremost, Jamal Adams' departure means a higher profile for Marcus Maye. When healthy, as he was in '17 and '19, MM was at times an electric performer alongside JA, and as the Jets' most senior DB now, I believe his skills will continue to emerge. His starting partner could well be newly arrived Bradley McDougald, who has the most pro starts among all the other safeties on the roster, with rookie Ashtyn Davis getting on the field perhaps earlier and more than he might have with Adams still here. Of course, a Maye-McDougald tandem will look different than Adams-Maye. Adams last season alone had 6.5 sacks and 13 QB hits, which is more than Maye and McDougald have totaled (1.0 sack, 3 QB hits) in their 10 NFL seasons combined. But both Maye and McDougald have better numbers in pass coverage than Jamal, so on the defense it would be natural to expect better pass defense and not as visible pressure and run defense from the safeties, which is entirely doable with the return of impactful LB C.J. Mosley to energize the front seven.