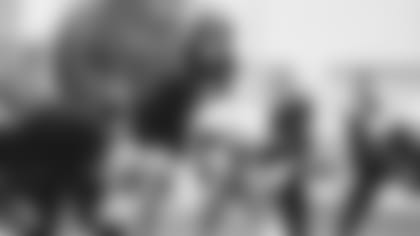 Throughout the offseason, NewYorkJets.com reporters Eric Allen, Ethan Greenberg, Randy Lange and Caroline Hendershot will each give their predictions to a series of questions regarding this year's Jets.
Today's question: What was your top Jets storyline during Week 2 of OTAs?
EA: During the same week the Jets announced CB Darrelle Revis's impending induction into the team's Ring of Honor, there is real reason to feel the Jets might be turning the corner at cornerback. Many of the Jets' offseason additions seem like perfect pieces for their 2022 crossword puzzle. Cornerback D.J. Reed has New York written all over him as DC Jeff Ulbrich said this week of the new Jets corner: "A lot of people throw that term around: 'He's a dog, he's a dog.' Well, he's a dog, he epitomizes it in every way." Robert Saleh, who coached Reed during the latter's first two pro seasons in San Francisco, commented on Reed's proclivity to be the "King of Strain" because of his all-in approach. Reed continues to gush about Ahmad "Sauce" Gardner, saying the team's No. 4 overall selection has prototypical size but he moves like a small guy who can be dominant at in the line in press-man situations. Bryce Hall, who had 16 PDs in 2021, is still taking reps with the ones and Brandin Echols, who is working to the side this spring while recovering from a shoulder injury, has put on muscle and is expected to be ready to compete in training camp. At the all-important nickel position, Michael Carter II returns as does Javelin Guidry. Reed says it's the best corner group he's been a part of, and the Jets have the guys to do more than just get the job done. But the potential of a Reed, Gardner duo is tantalizing.
EG: I'm going with team chemistry. While OTAs are designed to help a team build camaraderie on and off the field, you can tell how much this group wants to win and help each other work to achieve the same goal -- win. S Jordan Whitehead, a newcomer from the Bucs who brings championship pedigree, said he and new CB D.J. Reed asked second-year QB Zach Wilson about his off-field regiment and offer advice based on their previous experiences. Whitehead played with Tom Brady, who is entering his 23rd NFL season, in Tampa Bay and won the Super Bowl in 2021 while Reed played with nine-time Pro Bowl QB Russell Wilson for two seasons in Seattle. Neither player had to do that and they went out of their way to make sure their 22-year-old QB was in the best place possible. In Reed's media availability, he said he and WR Elijah Moore try to learn from another after their reps against each other. Moore bested Reed on an out route in practice and Reed told the second-year wideout that Moore's move would work on most corners because of where Moore lined up to start the play. Reed didn't need to say anything there either. These two anecdotes provide a glimpse of the team's evolving mentality. The Jets are young, they're hungry and they're trying to help flip the script.
RL: No doubt the top headline was the announcement of the Jets' first Ring of Honor class in five years, and what a threesome it is — Nick and Brick and Revis Island. But assuming fans want to know the top storyline out of the OTAs regarding the current crop of Young Jets and not some Green & White OGs, I'll go with the "Here's the Beef" Jets. There was CB D.J. Reed talking about his return to steak and chicken after four years away as a pescatarian, which some describe as a fishy vegetarian. Meanwhile, Zach Wilson and HC Robert Saleh were describing the second-year QB's remodeled body in terms of beefiness. Any concerns? Wilson, now at 221 on his way back to 218, swatted them all away: "I feel better for sure. ... The ability to have that stamina throughout the whole practice I think is better. ... Once we get in a game where we're actually getting hit and tackled, having some more size on me would help. ... I just feel like I'm a better athlete with more weight on, for some reason." Is Zach right? We won't know until opening day vs. the Ravens for sure, but along with all the other improvements he and his coaches and teammates are talking about, it gives us all something to chew on until training camp arrives.