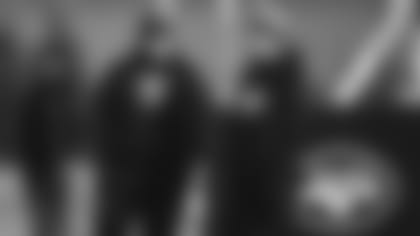 Throughout the offseason, NewYorkJets.com reporters Eric Allen, Ethan Greenberg and Randy Lange will each give their predictions to a series of questions regarding this year's Jets.
Today's question: What should the Jets be most excited about as they start their offseason?
EA: Stability, alignment, progress and resources. It was exactly one year ago (Jan. 14, 2021) the Jets announced they had agreed in principle for Robert Saleh to be the franchise's 20th head coach. Earlier this week, Saleh said that he and GM Joe Douglas see football in a way that is "identical," and Douglas added they both can set their egos aside and do what's in the best interest of the team. With one of the NFL's youngest rosters, the Jets finished 4-13, but Saleh and his staff displayed their ability to teach, lead and develop. The Jets 2021 draft class already has set a high floor and the ceiling is limitless. QB Zach Wilson took strides in Year 1 and his ball security late was encouraging plus the Jets aren't far away on both sides of the line of scrimmage. If DE Carl Lawson returns to form and looks anything like the player on the practice field last summer, that will change the entire defensive dynamic. This is a big offseason for T Mekhi Becton as he looks to rebound after a lost season. There are pieces in place as Alijah Vera-Tucker is poised to be a good to great guard, Michael Carter was a bear out of the backfield, Elijah Moore was a points producer with 5 TDs in 11 games, C.J. Mosley reminded everyone that he remains one of the NFL's top linebackers, Bryce Hall was one of the league leaders in PDs and led an promising group of CBs and DT Quinnen Williams continues to be a handful on the interior. According to OvetheCap.com, the Jets have the NFL's fifth-most cap space entering the offseason at more than $54 million. They also own two top-10 picks and their four picks in the top 38 would be only the third time the franchise has had four selections in the top 40 of any draft since 1970. The Jets have assets, they have flexibility and they can be aggressive in various avenues -- and that could include trade.
EG: Flexibility. When Joe Douglas said that the Jets could be in any discussion in the offseason, he was referring to the draft capital, but I think it goes beyond that. Douglas also has financial flexibility to sign marquee free agents if he decides to go that route. The Green & White have the blueprint to drastically change the roster by May. The Jets, according to Spotrac, are projected to have the fifth-most cap space in the NFL, which gives them the option to sign a big fish or two (the team signed WR Corey Davis and DE Carl Lawson last offseason) or go a different route. With four picks in the top 38, they could draft potential Day 1 starters if they stay put. Last year the Jets had picks 2, 23 (they traded up to 14) and 34, and drafted Zach Wilson, Alijah Vera-Tucker and Elijah Moore. Douglas can be aggressive and trade up, trade back or trade some capital for a proven NFL player. The flexibility in all aspects excites me the most not only because it's unpredictable, but because the team holds its destiny as much as you can in the offseason.
RL: A larger percentage of players than usual on this youngest-in-the-league roster were rookies who've just become NFL sophomores. They and the team should be fired up that their more-than-year-long college-to-pro tour is over and they can now put their full attention into healing and building their bodies and minds in their first full offseasons as pros. As Zach Wilson said about heading into his final season at BYU, "When I had shoulder surgery, I was pushing to get back from that and then right into the Covid year of my junior season. I really feel like it's been two years straight. It'll be good to just relax a little bit, get after the offseason and try to really improve in the things I know I need to get better in." GM Joe Douglas is also acutely aware of the physical wellness aspect of improving his team, saying that one of the Jets' offseason goals is "keeping the team healthy. I think this is the second year we've had the most cap dollars on injured reserve. It's hard to consistently win games when you're banged up." I think it could be rewarding to see how all the Jets and especially the young players benefit from these next months of offseason strength and conditioning, and then attack the '22 season.