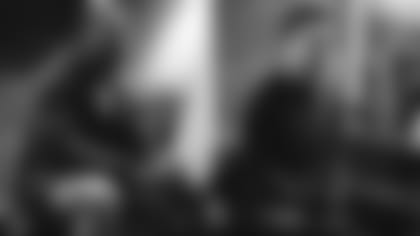 Throughout the offseason, NewYorkJets.com reporters Eric Allen, Ethan Greenberg, Randy Lange and Caroline Hendershot will each give their predictions to a series of questions regarding this year's Jets.
Today's question: What has stood out about the Jets' moves in the new league year?
EA: To start, the changes in the wide receiver room. Allen Lazard (6-5, 227) and Mecole Hardman Jr. (4.33 in the 40) own unique physical skill sets and they'll join a room that is headlined by Offensive Rookie of the Year Garrett Wilson. The trade of Elijah Moore to the Browns gives the Jets three picks in the top 43 of next month's NFL Draft  and that means more flexibility for GM Joe Douglas. The Jets have addressed the depth on the interior of the offense line with the addition of Wes Schweitzer and Trystan Colon. Now the defensive interior bears watching. While Solomon Thomas returns, free agents Sheldon Rankins (Houston Texans) and Nathan Shepherd (New Orleans Saints) found new homes. The Jets were reportedly in on Fletcher Cox before the veteran stalwart decided to re-up with the Eagles. Douglas deserves a lot of credit for keeping LB Quincy Williams off the market and making a great value play in the trade with Baltimore, acquiring Chuck Clark, a versatile and durable safety in exchange for a seventh-round pick in 2024. While all eyes remain on Aaron Rodgers and the possibility of a Jets-Packers swap, it's interesting that you see national media reports of interest from WR Odell Beckham Jr. and RB Ezekiel Elliott. Free agency is ongoing and the Jets are an attractive destination. 
EG: Playmakers and versatility. Looking at the receivers the Jets brought in – Allen Lazard and Mecole Hardman – Lazard has 14 touchdowns over the last two seasons and is coming off a career-high 60 receptions and 788 yards. Hardman, who has blazing speed and ran a 4.33 40-yard dash at the Combine in 2019, has scored a touchdown as a receiver, rusher, punt returner and kick returner. The Georgia product is a home run threat. In 2020, Jets GM Joe Douglas said "speed creates pressure. Pressure bursts pipes" and Hardman fits that bill. In the trenches, OL Wes Schweitzer and OL Trystan Colon have position flexibility. Schweitzer has taken at least one snap at all five positions along the line while Colon has played both guard and center. Defensively, new S Chuck Clark has seemingly played every position on defense – safety (612 snaps), outside linebacker (133), slot cornerback (128), inside linebacker (55), edge (54), perimeter cornerback (50) and interior defensive line (15).
RL: I like the interlocking moves on offense that suggest the growing ease with which GM Joe Douglas and his staff ,and HC Robert Saleh and his staff are moving pieces around in offseason No. 3 together. The Jets' brain trust didn't hide their pursuit of a veteran quarterback and clearly set their sights on the QB whose name will not be mentioned here until the trade is consummated. But while that saga was unfolding, the Jets went to work on wideout. Three of their best are now the defending NFL Offensive Player of the Year (Garrett Wilson), an annually improving pass-catcher who's one of the biggest WR targets in franchise history (6-5 Allen Lazard) and one of the fastest WRs to wear the green and white (4.33-speed Mecole Hardman Jr.). Regrettably, they had to package WR Elijah Moore and their third-round choice in the trade with Cleveland, but with a second-rounder coming here in return, the Jets have increased their flexibility for at least one future deal that has to be made with prime picks at Nos. 13, 42 and 43. Don't forget about the OL, of course, but we know one-time lineman Douglas hasn't with the signings of Wes Schweitzer and Tryston Colon and a few more to come in free agency and the draft. I'm optimistic that the pieces are fitting snugly into the puzzle for the season ahead.
CH: The Jets haven't been afraid to go after big names. The Green & White signed WR Allen Lazard last week. He finished last season in Green Bay with 788 yards and 6 touchdowns. Then, just this week the Jets signed WR Mecole Hardman Jr., who only played in 5 games last season for Kansas City, but totaled 328 yards and 6 touchdowns. The Jets have reportedly shown interest in guys like Odell Beckham Jr., which shows they are considering all options out on the market. On defense, the Jets re-signing a key player in the LB group with Quincy Williams also shows their commitment to returning the entire 2022 unit. I really like the commitment to re-signing key players from last season to continue the consistency while also adding new weapons.