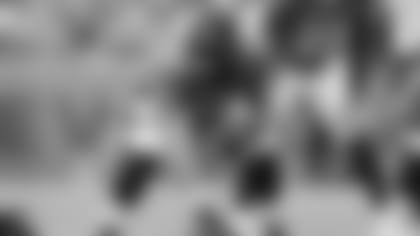 Throughout the offseason, NewYorkJets.com reporters Eric Allen, Ethan Greenberg, Olivia Landis and Randy Lange will each give their predictions to a series of questions regarding this year's Jets.
Today's question: What has stood about the Jets' moves in free agency?
EA: In a most unprecedented time, Jets GM Joe Douglas stayed true to his plan and remained strategic and disciplined. Transparent about the positions he needed to fix, he attacked the offensive line early and often, adding five including former Broncos C Connor McGovern. When Robby Anderson departed for Carolina, Douglas quickly countered with another speedster in Breshad Perriman. He got two key defensive contributors back in the fold in OLB Jordan Jenkins and CB Brian Poole and wasted no time signing a cornerback with extensive starting experience in Pierre Desir following his release by the Colts. He set ceilings, establishing flexibility for 2021 and beyond. Rather than focus on a splash or two, Douglas emphasized depth and culture. He brought in tough players who love the game and will fit inside the locker room. Douglas, who credited his support staff for helping making it a seamless transition from working in the office to home and also praised those on the front lines in the battle against COVID-19, has a clear vision and will continue to attack the holes that remain. And lastly, it is clear Douglas is going to do everything in his power to help Sam Darnold succeed.
EG: To me, it's twofold — beefing up the OL and being disciplined. GM Joe Douglas added (including both players who agreed to terms and official announcements) three linemen in the legal tampering period and another pair three days after free agency officially commenced. Douglas has continued to emphasize the OL and said the first he met QB Sam Darnold's parents last summer that he promised to protect the franchise signal-caller. By no means is Douglas done adding up front, either. In terms of approach, Douglas has been financially disciplined in his first offseason as GM. He hasn't broken the bank per se or made any splash signings. At the same time, he's added versatile players and brought back a lot of key contributors from the 2019 team including Brian Poole, Jordan Jenkins, Neville Hewitt, James Burgess and reportedly Arthur Maulet. Douglas said his plan was to be strategic navigating the free-agent waters and he's done that so far. I'm excited to see how he goes about his first draft as GM in a few weeks.
RL: What's stood out the most to me about the Jets' free agency is how all the offensive line signings seem to have been cut from the same cloth. All are "middle-aged," maturing, and not older "senior citizen" candidates. And all have shown their versatility before settling in at their positions in the last few years. George Fant played LT, RT and 3rd TE for Seattle and feels that he proved he's an NFL starting candidate on the left side. Connor McGovern has played C, RG and even LG in a pinch and says he'll be happy to help out at either position. Greg Van Roten's a little older than those two and has been a LG the last two yeras for Carolina; his versatility is how he moved around, from Green Bay to Toronto — and two years in the CFL — before the Panthers. Even Josh Andrews has that versatiltiy: C, RG, 3rd TE and special teams. All seem to have stepped up their games in the last few years. That's no guarantee they'll continue to rise as Jets. But that's something I'll trust that GM Joe Douglas, that old O-lineman himself and a veteran scout with those three rings, has taken care of. ... And, of course, there's more free agency and a draft to come. 
OL: The additions to the offensive line have stood out most to me during general manager Joe Douglas' first Jets free agency. When the offseason commenced, Douglas — a former offensive lineman— spoke about how important it was to provide protection for Sam Darnold. Last season, the Jets ranked No. 30 in the league in sacks allowed per pass attempt, allowing sacks on 9.98% of Darnold's dropbacks. So far, Douglas has added five offensive linemen to the mix, one of them being returning guard Alex Lewis. It's possible that the Green & White's entire starting O-line could look completely different next season. The first-year GM also spoke about "financial discipline," which will allow flexibility in spending for the future. With free agency ongoing and the draft on the horizon, I wouldn't be surprised if Douglas continued to add pieces to the trenches in the coming weeks.