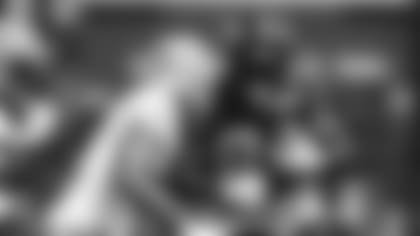 Throughout the offseason, NewYorkJets.com reporters Eric Allen, Ethan Greenberg and Randy Lange will each give their predictions to a series of questions regarding this year's Jets.
Today's question: What do you want to see from the Jets' starters against the Packers?
EA: The loss of starting DE Carl Lawson to an Achilles tendon tear on Thursday was a tough blow for a Jets team less than a month away from the regular season opener at Carolina. Lawson looked to be on the verge of something special, an explosive athlete with an amazing win rate as a rusher who had an opportunity to become an elite finisher after four seasons with the Bengals. He was a perfect fit for a defense that has good pieces along the defensive line, including an emerging interior force in Quinnen Williams. So Packers Week concludes without Lawson and we are now reminded of what first-year head coach Robert Saleh said at the end of minicamp" "That's where you're really going to get better, is through adversity and tough times. We're going to have some adverse moments right from the get, how we're going to handle it is going to make or break this football team." What happens Saturday afternoon at Lambeau Field is not going to make or break this football team, but you do want to see the defensive line, minus Lawson and Williams, who on the positive side of things took team reps Thursday, to fire off the ball and get after QB Kurt Benkert. Second-year player Bryce Huff could be poised to fill in for Lawson and his continued development will be critical. On the other side of the ball, I'm excited to see if QB Zach Wilson can build off his solid effort last week against the Giants. Some of his best moments in the joint sessions with the Packers were in two-minute situations and that's a positive sign. The early third-down conversions were positive last week for the offense, so let's see if the Jets can continue that trend. And finally, let's hope for an injury-free game before the Jets depart for home.
EG: As Zach Wilson said earlier this week – more of the same from last week's game, but also improvement. The first-team offense looked good running and throwing the ball, but I'd like to see the unit improve by consistently moving the ball. I'd also like to see a touchdown drive. I was impressed with the offensive line against the Giants, particularly in the first series. With a good Packers front that includes a pair of Smiths -- Za'Darius and Preston, who combined for 16.5 sacks in 2020 -- how will Mekhi Becton and either Morgan Moses or George Fant fare? As head coach Robert Saleh said, the Packers have a championship roster. While Aaron Rodgers won't play, there's plenty of talent on both sides of the ball if their star players such as WR Davante Adams and CB Jaire Alexander do play. I'll also have an eye on what undrafted free agent CB Isaiah Dunn will do. He took first-team reps before he sustained an injury this week in his return to practice, he's received some run with the ones. If he plays with the starting defense, what does he show? Cornerback is a room with a lot of players battling for a starting job and second-year CB Bryce Hall has been coming on strong the last week and a half.
RL: More progress from the first units, especially in the passing games. On offense, Zach Wilson looked solid vs. Giants but still didn't target his backs once (not necessarily a bad thing) and also didn't have a completion longer than 16 yards. He won't have many more plays to work with vs. Green Bay than he did last week but it'd be good to see him dish the rock off in space to Tevin Coleman (10.5 yards/catch for his career, outstanding for a back) as well as get the ball deep once or twice to Corey Davis, Keelan Cole and/or Denzel Mims, not to mention Jamison Crowder and/or Braxton Berrios. "We're definitely getting there," said Davis. Getting in the end zone with a touchdown drive would also be nice. On the other side of the ball, the Jets' pass defense was sensational vs. the Giants. But even without Aaron Rodgers expected to play, the Packers will throw Adams, Cobb and Valdes-Scantling at Bless Austin, Bryce Hall, Jav Guidry & Co. As Robert Saleh said this week about CB: "There's a couple of guys, a few of them actually, that are starting to separate." The proof of that will be winning some downfield situations with the Pack's stacked wideouts.