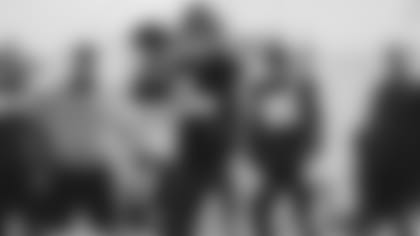 Throughout the offseason, NewYorkJets.com reporters Eric Allen, Ethan Greenberg, Randy Lange, Caroline Hendershot and John Pullano will each give their predictions to a series of questions regarding this year's Jets.
Today's question: What Do You Expect in Zach Wilson's Debut Sunday vs. Steelers?
EA: After he was medically cleared to return, Zach Wilson was asked by a reporter if he'll have to tell himself to not do too much. The signal-caller countered that he didn't want to overthink his situation, that he was going to have fun with it and let the result take care of itself. When Wilson returned to the lineup last November following a PCL sprain, HC Robert Saleh said there was rust and Wilson wasn't happy with how he performed in 21-14 win over the Texans in Houston. Since Jan. 9, Wilson has played in 9 snaps and those came in the preseason opener at Philadelphia on Aug. 12. It's unrealistic not to expect some rust and moments to work through but it would help if the Jets, who've had the lead 22 seconds this season, can play from ahead. That will mean more run game (Joe Flacco set an NFL record with 155 pass attempts through Weeks 1-3) and play-action opportunities for an offense that leads the NFL with six different players with 10+ receptions.
EG: I think Zach Wilson will look improved from last season, but with some minor rust. Robert Saleh said the best way to get better at football is to play football despite trying to simulate the game in practice. Wilson has been a limited participant in practice the last two weeks and has been a full participant once he was medically cleared earlier this week. Pittsburgh's defense ranks in the bottom-third in the NFL in yards (24th), rushing (28th), passing (22nd) and third down (25th), so it could be a good matchup for Wilson and the offense — on paper — in his first start since last season. The Steelers, however, have had 10 days rest and are known for exotic blitz packages. They've led the NFL in sacks each season from 2017-21, but will be without star pass rusher T.J. Watt. The supporting cast around Wilson is improved since the last time he took the field at the end of his rookie season, but it'll come down to how fast Wilson acclimates.
RL: I think Zach Wilson will show some nerves early on. Why wouldn't he? First game action since the preseason opener, first live action since January at Buffalo. He's eager to roll and he says all the right stuff. But after seven weeks of easing back into the pool, he might need a series or two to get his feet wet. After that, I'm optimistic we'll get to see the unveiling of Zach Attack 2022. He knows he needs to avoid turnovers and get rid of the ball quickly, and that might tie in with the opponent, since the Steelers have been yielding 24 first downs a game (30th in the league) and 47% third-down conversions (25th). I wouldn't discourage Wilson from going deep but Pitt has allowed three 100-yard receivers and almost two more without allowing a completion longer than 44 yards. I'd also probably like to see Wilson be a little careful when he tucks it and scrambles, but as he said Wednesday, "I'm planning on being exactly how I should be." My hope is he's going to look like Zach Wilson 2.0 early Sunday afternoon.
CH: I think there will be an adjustment period for Zach Wilson as he comes back from IR. As HC Robert Saleh said, and OC Mike LaFleur "the best way to get better at football is to play football." Although Wilson has had 156 consecutive passes and 5 straight games without an interception and was playing some of his best football at the end of last season, I think it will take more time to adjust to playing at game-speed for the QB. Wilson will bring a lot more mobility and urgency to the offense. RB Breece Hall said, referring to Wilson: "I feel like there was no drop off in chemistry and when he wants to get us the ball, he's going to get us the ball.". I think Wilson's knee won't be an issue since he has said he is "100%" and "ready to go," however I think the adjustment will take time.
JP: I see more of the play he displayed at the end of last season. In the 2021 season, Wilson sustained a sprained PCL that kept him out four weeks. During his rehab, HC Robert Saleh said that Wilson did "extra work." Wilson returned to throw 5 touchdown passes, rush for 4 and turn the ball over 3 times over the final 7 games – all after throwing 9 interceptions in his first 6 games. Saleh echoed a similar sentiment about him Wilson season: "He's champing at the bit to get to rehab. … He's in every meeting and he's still getting the extra work in." In addition, OC Mike LaFleur mentioned this week that when Wilson returned last season he still "felt weird." This fall, Saleh has reiterated that Wilson would not return until he was "100 percent." Based on Wilson's bounce back last season and how he feels now, there is no reason to expect anything less than the standard of play he set for himself at the end of last season.