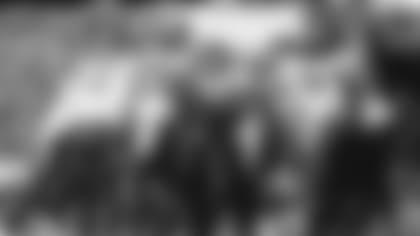 Throughout the season, NewYorkJets.com reporters Eric Allen, Ethan Greenberg, Olivia Landis and Randy Lange will each give their predictions to a series of questions regarding this year's Jets.
Today's question: What do you expect from the Jets offense after the bye week?
EA: This question will be easier to answer Wednesday because the Jets will know a lot more about second-year passer Sam Darnold and his spleen over the next couple of days. Regardless of whom plays quarterback, the Green & White have to find the answers up front where everything starts. While points were obviously hard to come by during the club's 0-3 start, this is a team that averaged just 12 first downs per game and their third-down conversation rate of 21% ranked 31st entering Week 4. The offense is in desperate need of success on first and second downs. The Jets will return to action against an Eagles defense, although formidable, is yielding 26.2 points per game and is 31st in pass defense (323.8 Yds/G). But the Birds are also third in the NFL against the run (62.0 Yds/G) and the Jets must find a way to get their top offensive weapon ⁠— RB Le'Veon Bell, who has been outstanding and leads the league with 76 offensive touches⁠— more space.
EG: The short answer is something similar to what we saw from Adam Gase's attack-style offense in training camp and the preseason. While those reps didn't come against live bullets like in the regular season, the offense showed the style of football they'd like to play — fast and aggressive. The unit has only played at full strength against the Bills in the opener and with the impending returns of Sam Darnold (mono), Demaryius Thomas (knee/hamstring) and Chris Herndon (suspension), I think the offense will begin to open up as the run and pass game will finally be able to feed off each other. These past few games have been tough sledding on offense, but the expectation of Sam Darnold having a second-year leap, to me, is still very real and feasible. Same goes for the excitement about this offense, and team, that was created heading into 2019.
OL: When the team comes back from the bye week, I expect the offense to utilize more of its players. The Jets suffered unfortunate injuries (and illnesses) early in the season, particularly with the absence of QB Sam Darnold (mono). It's a challenge not being able to play with all your weapons, but tight end Chris Herndon, who's serving a four-game suspension, is set to return Week 6 and the return of both Darnold and WR Demaryius Thomas (knee/hamstring) will bring the unit back to full strength. The return of Darnold, Herndon and Thomas could affect the play calling in a positive way. The Green & White has dealt with some adversity early on, but the offense needs to start producing and I think that'll be much easier to do once the Jets' key pieces return to the starting lineup.
RL: Like Adam Gase, I don't want to get over my skis on this but I expect to see improvement in the Jets offense primarily because I am optimistic Sam Darnold will be ready to take the reins again. With that I expect to see one big statistical improvement, and that's in third-down distance. The Jets' average third-down distance to move the sticks vs. Cleveland was 11.0 yards and at New England was 11.3. That's the first time since '97 the offense has had consecutive games of third-and-10.0 yards or more to convert and the first time in franchise history it's had back-to-back 11.0-plus games. With the return of Darnold, TE Chris Herndon from suspension, WR Demaryius Thomas from injury and WR Jamison Crowder to the slot, that improvement should be realized. And with the return of the play-action threat, RB Le'Veon Bell will become more effective, as should WR Robby Anderson, who has been kept in check by opposing defenses so far with 10 catches for 115 yards so far.